ProCourt Badminton / Volleyball Combination Posts
ProCourt Badminton / Volleyball Combination Posts
Double The Fun With These Perfect Posts For Badminton And Volleyball!
THE STURDIEST STEEL POLES
The posts are designed to endure the hardest of ball impacts and the test of time. Powder coated in a cool blue finish, your court will certainly stand out!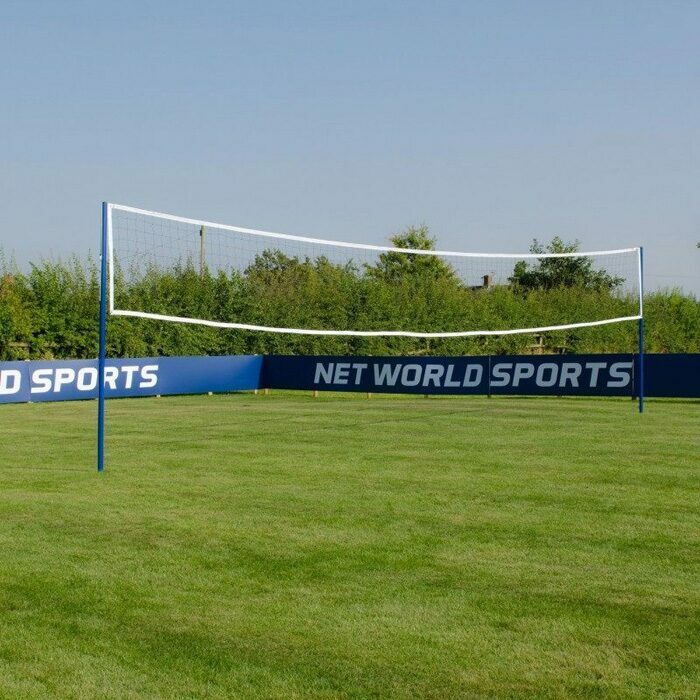 FULLY LICENSED - GET PLAYING!
Whether you're playing Bandminton or Volleyball, our combination posts are designed to officially conform to their respective federation's regulations.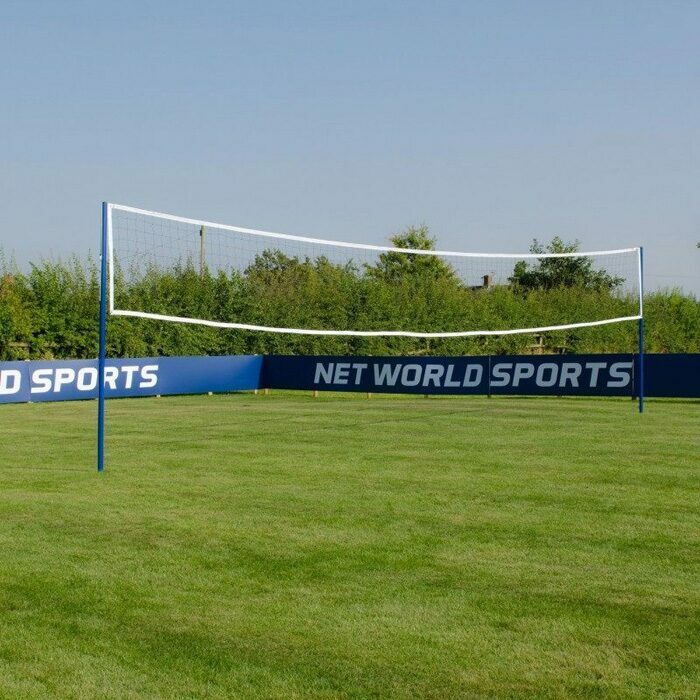 FREESTANDING & SELF-WEIGHTED
Thanks to its attached wheels and entirely self-weighted base, shifting these perfectly portable posts into position is extremely easy!
Description
Freestanding Badminton & Volleyball Net Posts For Matches
Play two sports with one set of posts thanks to this incredible Badminton and Volleyball package. Super spikes and ace drop shots alike can be enjoyed with these durable duel-sport combination posts.
The freestanding posts can be used to play anywhere and the posts' attached wheels make for simple maneuverability.
Not only are they portable, they're tough as nails thanks to their steel exterior; capable of withstanding an infinite amount of volleyball hits. They're also completely self-weighted, so don't worry about them blowing over, unless it's hurricane season.
All fixtures and fittings are included; attachable and detachable too for your convenience and to maximise portability.
If you're looking for a professional badminton or volleyball set-up, nets & posts for schools or simply for the garden, then look no further. Enjoy games of volleyball or badminton for years to come!
To select your preferred package (Posts Only or Nets & Posts), simply choose the option from the dropdown menu.
All Net World badminton posts are in stock. To view these please see the other products in our Badminton Posts section.
Specifications
Badminton & Volleyball Posts:
Size - 2in Diameter Steel Posts
Colour - Blue (Powder Coated)
Weight (posts) - 8lbs / 3.6kg
Weight (bases) - 46lbs / 21kg
Height - 8ft Volleyball / 5ft Badminton
Conforms to BSEN: 1509
Volleyball Net:
Net Size - 32ft x 3ft
Mesh Square Size - 4in
Weight - 4.4lbs
Overlock Border.
Badminton Net:
Net Size - 20ft x 2.5ft
Mesh Square Size - 0.7in
Weight - 1.9lbs
Overlock - Stitched Twine Edge
Don't just take our word for it
Easy to set up, and seems a good quality product. Very pleased.
Want to chat?
We're here on

live chat

right now!
Or via phone or email if you'd prefer...
Questions & answers
Ask fellow customers what they think!
Hide Q&As
Questions & Answers
1 question | 1 answer
Does this netsystem come with two post and nets?
Answer this question >
Hi Yuejin, Thank you for question. There is the option on the drop down menu to have the posts only or with the inclusion of a net. Two posts would be included and if selected a 20ft badminton net as well. If you do have any further questions please do contact us via sales@
networldsports.com
Many thanks, Tom
ProCourt Badminton / Volleyball Combination Posts
Thank you!
Your answer has been submitted.
We really appreciate you taking the time to help other customers, so please check your emails for a little thank you from us.
ProCourt Badminton / Volleyball Combination Posts
What would you like to know?
Thank you!
Your question has been submitted. You'll receive an email when an answer has been received.
Can't hang around? Contact us and we'll get back to you right away.
You may also like
Vermont ProCourt Mini Tennis Set [4 Nets] – Schools Edition
$699.99
ProCourt Badminton / Volleyball Socketed Combination Posts [97lbs]
$169.99
Vermont ProCourt Mini Tennis & Badminton Net & Racket Set
$153.99
Vermont ProCourt Mini Badminton Net & Racket Set
$107.99
Vermont ProCourt Mini Tennis Net & Racket Set
$99.99
Recently Viewed
PVC Pouch for Field Divider Net
$179.99
Roll Down (Lightweight) Cricket Matting - 6.5ft Wide (Indoor/Outdoor)
$79.99
Stop That Ball™ - Ball Stop Net & Post System
$149.99
Training Hurdle Carry Bag
$5.99
FORZA Soccer Free Kick Mannequins
$84.99