ProCourt Badminton / Volleyball Socketed Combination Posts [97lbs]
ProCourt Badminton / Volleyball Socketed Combination Posts [97lbs]
Two Sports, One Set Of Posts - ProCourt Badminton/Volleyball Posts
Super Sturdy Steel Posts
The thud of a volleyball and close court racket impact won't damage these strong posts. Powder coated in a cool blue, your court is sure to stand out!
Posts That Pass The Test
Our ProCourt Badminton & Volleyball posts officially adhere to their respective federation's regulations - bring your best skills and get playing!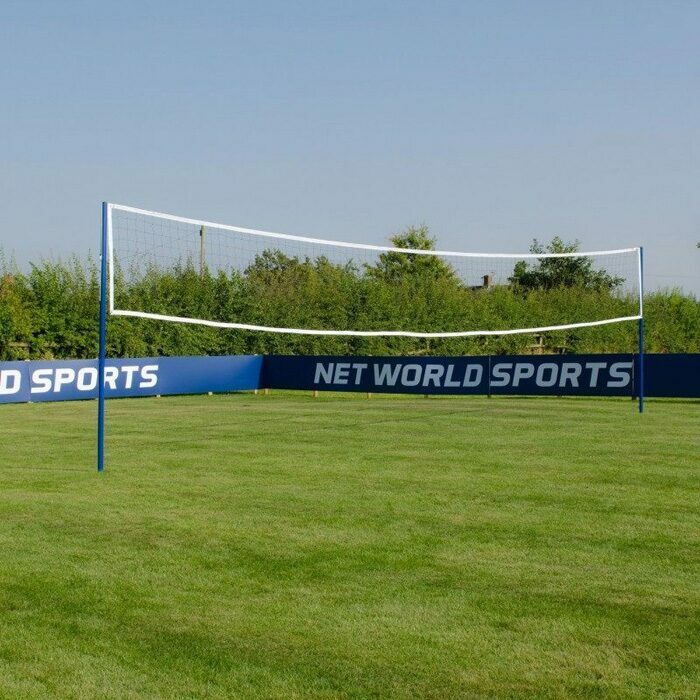 Volleyball Or Badminton?
Whether you fancy yourself as a racket-wielding wizard, or a spike supremo, these top quality combination posts are perfect for both sports!
Description
Socketed Badminton & Volleyball Net Posts For Club Matches
Enjoy playing two sports with one set of posts thanks to the ProCourt's incredible Badminton & Volleyball combination post package.
The Socketed posts are guaranteed to add a semi-permanent touch of class to any playing surface that can facilitate socketed installation.
Tough as nails thanks to their steel exterior, they're more than capable of withstanding barrages of volleyball hits and close net badminton racket collisions.
All fixtures and fittings for the optional nets are included; attachable and detachable too for your convenience and to maximise portability.
If you're looking for a professional badminton or volleyball set-up, nets & posts for schools, parks or home courts, then look no further. Enjoy games of volleyball or badminton for years and years!
To select your desired package (Posts Only or Nets & Posts), simply choose the option from the dropdown menu.
Specifications
Badminton & Volleyball Posts:
Size - 2in Diameter Steel Posts
Colour - Blue (Powder Coated)
Weight - 99lbs (Set)
Height - 8ft Volleyball / 5ft Badminton
Conforms to BSEN: 1509
Badminton Net:
Size - 20ft x 2.5ft
Mesh Square Size - 0.7in
Headband - 1.5in PVC Coated Fabric
Overlock - Stitched Twine Edge
Twine - Braided Nylon
Weight - 1.9lbs
Includes 2 x Brass Eyelets & 2 x Braided Nylon Tie Twine
Volleyball Net:
Net Size - 32ft x 3ft
Mesh Square Size - 4in
Weight - 4.4lbs
Overlock Border.
Want to chat?
We're here on

live chat

right now!
Or via phone or email if you'd prefer...
Super fast shipping
1 day shipping available
Questions & answers
Ask fellow customers what they think!
Hide Q&As
Questions & Answers
2 questions | 2 answers
How does the pole get attached to lawn?
Answer this question >
Hi Shelly, thanks for getting in touch. You are currently looking at the 'Socketed' version. This system is provided with additional ground sleeves which need to be concreted into the ground. Once the sleeves are in the ground, the posts simply slide into the pre-existing socket. We also have a 'Freestanding' system available which is on wheels should you prefer this. If you have any further questions then please do get in touch. Many thanks, Adam
Can this product be shipped to Merida, Mexico? If so, what would the shipping cost be?
Answer this question >
ProCourt Badminton / Volleyball Socketed Combination Posts [97lbs]
Thank you!
Your answer has been submitted.
We really appreciate you taking the time to help other customers, so please check your emails for a little thank you from us.
ProCourt Badminton / Volleyball Socketed Combination Posts [97lbs]
What would you like to know?
Thank you!
Your question has been submitted. You'll receive an email when an answer has been received.
Can't hang around? Contact us and we'll get back to you right away.
You may also like
ProCourt Badminton / Volleyball Combination Posts
$278.99
Vermont ProCourt Mini Badminton Net & Racket Set
$107.99
Vermont ProCourt Mini Tennis Net & Racket Set
$99.99
ProCourt Mini Badminton Net
$69.99
Replacement Vermont ProCourt Mini Tennis & Badminton Combi Nets
$37.99
Recently Viewed
Vermont ProCourt Mini Badminton Net & Racket Set
$107.99
Full-Height Rugby Tackle Bag [Pro Model]
$144.99
Vermont Tennis Racket & Bag Set
$68.99
Vermont 3.5mm Tennis Net [42ft Doubles - 18lbs]
$139.99