FORZA Field Hockey Training Marker Cones
FORZA Field Hockey Training Marker Cones
Orange Marker Cones For The Training Ground
High Visibility Orange
The bright orange cones makes it suitable for all weather conditions, keeping your drill structured at all times.
Traffic Cone Shaped
This cone has a taller profile than your normal "space cone", meaning it will become a more substantial obstacle in dribbling drills or as temporary posts.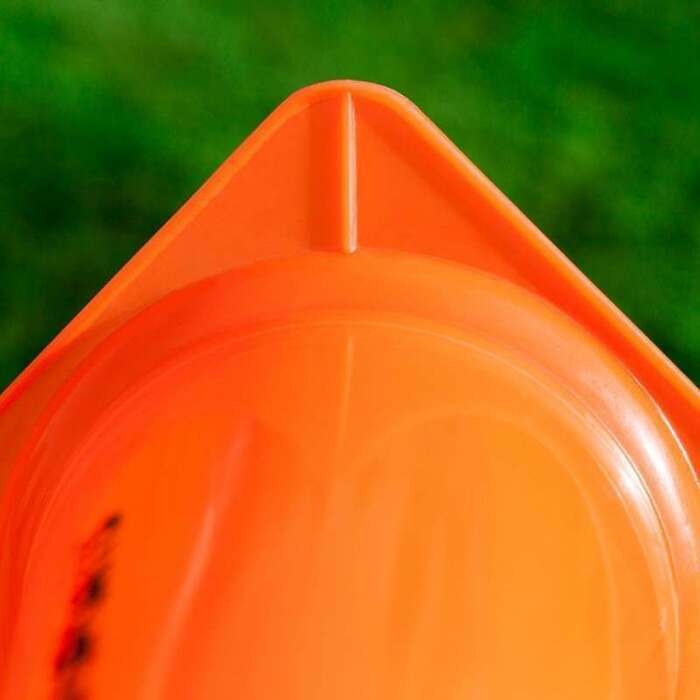 Sturdy and Durable
Made from high quality plastic, fit to survive the typical hockey training conditions all season long.
Description
Arrange Your Field Hockey Coaching Sessions Using the Orange Training Marker Cones
Get the most out of your training session with these orange training cones. Coaches can find multiple purposes for these taller styled cones to really enhance their training session, from dribbling drills to agility exercises to pitch markings.
Taller profile and bright orange colour increases visibility, meaning they really can't be missed!
Durable plastic design to ensure the cones remain in fine condition throughout the season.
Height options include 23cm (9 inches), 30cm (23 inches) and 38cm (15 inches).
Multiple uses in a variety of drills and sports, from involvement in training drills to marking out pitches.
Available in packs of 10 or 100, to meet the requirements of the club or team.
The visibility of this marker cone is greater than the flatter space cones due to its added height. The taller profile and fluorescent orange colour of the training cone give it a great visibility, making it perfect for pitch markings and other cases where the cone visibility may be crucial.
Being available at 23cm (9 inches), 30cm (12 inches) and 38cm (15inches), the cones have a lot of uses. As previously mentioned, the taller profile can work as a beacon for pitch markings if required. On top of that, the hockey training cones can also become a more substantial option to the flatter cones when needing temporary posts or dribbling obstacles. Its uses do not stop at dribbling drills and temporary goal posts though. You can get creative and balance something on top of two cones to create a hurdle for people or the ball, adding a new dimension to your hockey practice.
Specifications
Size
Height Options: 9 inches (23cm), 12 inches (30.5cm), 15 inches (38cm)
Materials
Traffic cone shaped sturdy, durable plastic
Miscellaneous
Color: High Visibility Orange
Available in packs of 10 and 100
Multiple uses from pitch marking, temporary goal posts to dribbling cones
Want to chat?
Contact us here and we'll get back to you as soon as possible.
Super fast shipping
Express shipping available
Questions & answers
Ask fellow customers what they think!
Hide Q&As
Questions & Answers
No one has asked a question yet!
You may also like
Hockey Practice Buffer Pad
$193.99
Multi-Sport Ball Carry Cart [Tennis, Hockey, Cricket & Lacrosse]
$179.99
Grass Germination Sheet
$80.99
FORZA 6ft Spring Loaded Slalom Training Poles [1.5"]
$74.99
Recently Viewed
METIS Reflex Reaction Ball [2 Sizes]
$11.99
FORZA SD200 Training Basketballs [Size 7]
$17.99
Heavy Duty Boot Scraper & Wiper [Single/Double/Triple]
$275.99
Steel Net Pegs [Ultra Heavy-Duty]
$3.99
8 x 4 FORZA Match Soccer Goal Post
$139.99