FORZA All Weather Training Netballs and Carry Bag [12 Pack]
FORZA All Weather Training Netballs and Carry Bag [12 Pack]
Durable Netball Training Balls for Outdoor and Indoor use
Textured 3D Grain
The practice netballs outer layer features a pimpled exterior to provide optimum player grip and control in any weather conditions.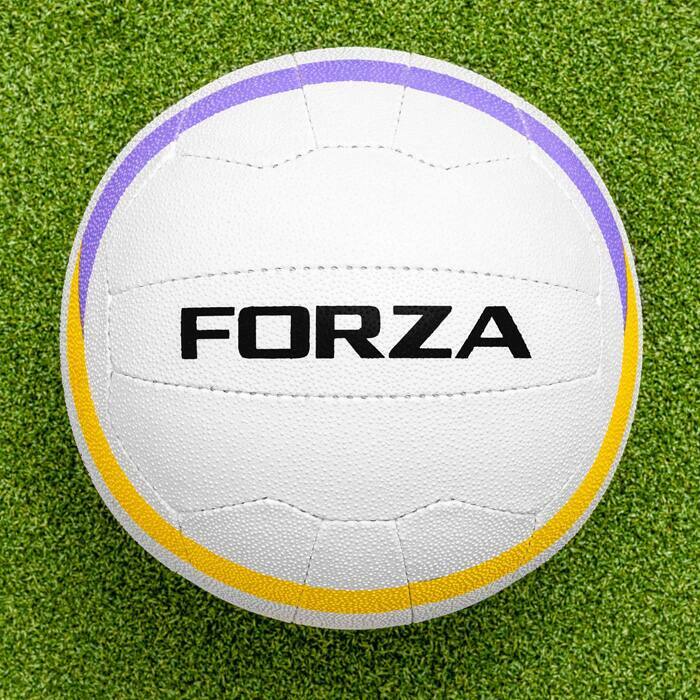 Protected Butyl Bladder
Outer layer cotton canvas and polyester viscose lamination help protect the high-quality butyl bladder that maintains consistent levels of air pressure in the practice ball.
Secure Storage Ball Bag
Keep transporting your regulation netballs simple with the smart and effective mesh carry bag that keeps your netball warm-up balls secure.
Description
Ultra-Durable All Weather Training Netballs and Mesh Storage Bag in Size 4 and 5
The 100% hand stitched training netballs are the perfect addition for outdoor or indoor practice as their 3D grain design allows for superb ball control and grip in any conditions. For added strength and durability, the outer layers of the regulation netball balls are laminated with a layer of cotton canvas and a layer of viscose polyester for added protection.
The multipack of netballs for training are available in size 4 (juniors) or size 5 (seniors).
Junior netball practice balls are best suited for players aged 5-10.
Senior all-weather netballs are suitable for players aged 11 and above.
Warm-up netballs are manufactured from a blend of 60% virgin grade natural fabric and 40% synthetic rubber.
3D grain manufacturing helps player grip in any weather conditions.
The Netball set is completed with a strong knotted mesh carry bag for transporting and storing all your premium netball balls.
The protective and durable outer layers give added protection to the high-quality butyl bladder which maintain the balls air pressure, keeping it level throughout use, enabling your team to practice consistently and for lengthy periods of time. The premium quality textured rubber ensures a consistent air pressure is retained, allowing the FORZA all weather training netballs to be used regularly.
The inclusion of the mesh carry bag ensures all your pre-match netballs can be stored comfortably and securely between practice sessions. Its knotted black mesh design keeps it strong and easily maintainable.
PLEASE NOTE- The netball carry bag can also be used to transport various other sports balls and equipment including footballs, basketballs, Gaelic footballs and rugby balls.
Specifications
Textured 3D Grain Training Netball
Sizes
Size 4: Ages 5-10 (juniors)
Size 5: Aged 11+ (seniors)
Material
Outer panels: Blend of 60% synthetic rubber and 40% natural rubber.
Inner Bladder: High quality Butyl
Miscellaneous
Textured rubber blend panels feature 3D grain for all weather grip
See through Ball Carry Bag
Fits 12 Size 5 netballs
Comes in black with Net World Sports branding
See through knotted mesh material
Want to chat?
Contact us here and we'll get back to you as soon as possible.
Super fast shipping
Express shipping available
Questions & answers
Ask fellow customers what they think!
Hide Q&As
Questions & Answers
No one has asked a question yet!
You may also like
Wall Mounted Netball Ring & Net
$37.99
Freestanding Netball Posts [School Standard - 55lbs]
$219.99
Netball Post Protection Padding [Pads Fit 50mm & 80mm Posts]
$44.99
Replacement Netball Post Hoop
$74.99