FORZA Rugby Training Marker Cones [Pink]
FORZA Rugby Training Marker Cones [Pink]
FORZA Rugby Training Marker Cones [Pink]
Cone Stand For Transportation
Each pack of pink marker cones include a handy cone stand, ideal for transporting and storing your training cones.
Hi-Vis Pink Rugby Cones
These bright coloured fluorescent pink cones are highly visible across your rugby pitch and suitable for low light conditions.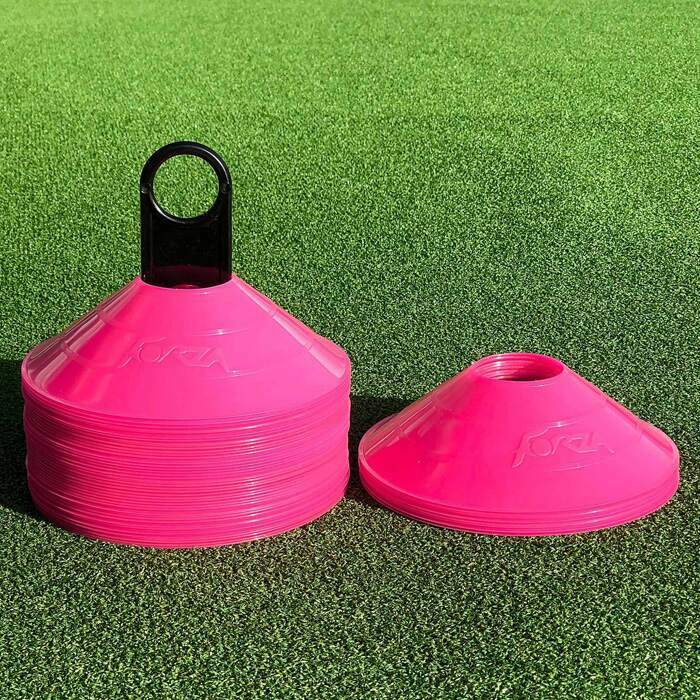 Completely Weatherproof Cones
Our pink cones are resistant against the elements which means come rain or shine, your training drills can go on!
Description
CREATE STAND OUT FLUORESCENT BOUNDARIES FOR YOUR RUGBY PLAYERS
Complete your rugby training equipment with our FORZA Rugby Training Marker Cones in vivid pink!
These expertly manufactured FORZA marker cones can help your team develop to a professional level. Designed to diversify each training session, the cones can be used for various drills from speed and agility to passing and handling. Due to their bright and illuminous colour, our cones are suitable for creating temporary rugby pitch markings and boundaries quickly and easily.
Each cone is 28g for added stability in adverse weather conditions
Choose from our standard pack of 50 cones or the jumbo pack of 1000
An intensely bright marker cone that guarantees visibility even in low light
8inches wide x 2inches high with a hole diameter of 2 inches
A high-quality black plastic cone included
Each cone is 8in x 2in in size and is 33% heavier than previous designs to guarantee that they stay in position throughout your rugby training. These marker cones are the perfect addition to any team's equipment. With their heavy-duty composition and intense colour, you're able to train and play anywhere. Not only will our cones stay firmly in place, they will remain highly visible across the rugby pitch, even in poor lighting to ensure your training sessions are always productive.
Our bright pink marker cones are available in packs of 50 cones or a jumbo pack of 1000 cones, so you never find yourself short of marker cones again! Each pack of marker cones include a cone stand for transporting your cones to and from rugby practice, whilst providing storage for your cones.
When your rugby training drills are over, why not turn clean up time into a fun game by invest in our incredible FORZA Training Cones Pick-Up Tool to make clean up easy!
Specifications
Dimensions:
20.5cm (8in) wide
5cm (2in) high
Hole diameter - 2in (5cm)
28g (1oz) weight
Colour:
Misc:
Available in packs of 50 or 1000
Ideal for rugby training drills and temporary rugby pitch markings
Cone stand included for easy transportation and storage
Want to chat?
We're here on

live chat

right now!
Or via phone or email if you'd prefer...
Super fast shipping
1 day shipping available
Questions & answers
Ask fellow customers what they think!
Hide Q&As
Questions & Answers
No one has asked a question yet! Be the first to ask one.
FORZA Rugby Training Marker Cones [Pink]
Thank you!
Your answer has been submitted.
We really appreciate you taking the time to help other customers, so please check your emails for a little thank you from us.
FORZA Rugby Training Marker Cones [Pink]
What would you like to know?
Thank you!
Your question has been submitted. You'll receive an email when an answer has been received.
Can't hang around? Contact us and we'll get back to you right away.
You may also like
Rugby Tackle Shield With Top Wedge [Pro Model]
$99.99
Rugby Tackle Shield With Double Wedge [Pro Model]
$129.99
Low-Height Rugby Tackle Bag [Pro Model]
$144.99
Full-Height Rugby Tackle Bag [Pro Model]
$144.99
Rugby Curved Hit Shield [Pro Model]
$129.99
Recently Viewed
FORZA Alu110 Soccer Goal Wheels (Lever And 360° Wheels)
$239.99
Replacement FORZA Alu110 Freestanding Stadium Box Soccer Goal Nets [5 Sizes]
$299.99
Baseball Cage Matting
$629.99
FORZA Rugby Kicking Tee
$6.99
Club Spec Cricket Matting - 6.5ft Wide (Outdoor/Indoor)
$79.99