RapidFire GAA Gaelic Football & Hurling Rebound Net [Single Sided]
RapidFire GAA Gaelic Football & Hurling Rebound Net [Single Sided]
This rebound net provides the ultimate Gaelic Football test
Super Quick Set Up
The GAA RapidFire Rebounder features a simple foldaway design ensuring the assembly takes just seconds, allowing you to put more time into your training. It's easy to store & transport too!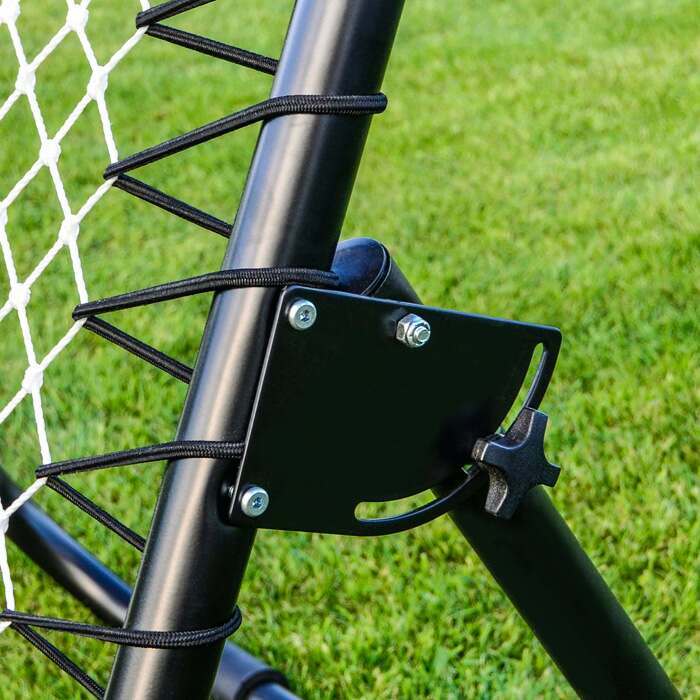 Adjustable angle option
Unique to other rebounders, the RapidFire allows you to adjust the angle of the rebound area so you can change the difficulty as you see fit. This is especially useful for catching drills.
More time to train
This RapidFire Rebound Net takes just seconds to set up and take down thanks to its easy-to-use foldaway frame leaving more time for Gaelic football fun!
Description
Professional RapidFire Rebounder For GAA Training Drills
Whatever sport you play, to get to the next level you need to be experiencing top-level training on a regular basis and with this Gaelic Football RapidFire Rebound Net you can do just that. The impressive single sided training accessory features a tightly tensioned 3.2ft x 3.2ft rebound area which will consistently produce an extreme bounce for players to test their skills. The firm bounce combines expertly with the adjustable angle option to allow players to test their passing, catching and contesting skills. Robust yet light-in-weight, it's foldaway design makes it easy to carry and store as well!
3.2ft x 3.2ft GAA RapidFire Rebounder
Single-sided or double-side rebounder available
Sturdy & robust spring loaded with wide rebound area & extreme bounce
Features a unique adjustable angle option
Can be set up in seconds
Easy-fold design ensures storage & transportation require minimal effort
This rebound net is the perfect choice for GAA players as its versatility ensures multiple skill areas can be put to the test. Whether you're looking to perfect your fist and hand passing techniques or trying to train your reaction catching skills, this rebounder can accommodate all of it. The 3.2ft x 3.2ft rebounder area is tightly tensioned to give an extreme bounce whilst players can change the difficulty of the drill by simple altering their distance or adjusting the angle of the rebounder.
Despite its robust nature, the rebounder's frame remains exceptionally lightweight allowing players to transport it with ease. The easy-fold design ensure that it can be simply carried by your side whilst requiring very little space for storage, so you can keep it just about anywhere! No time has to be lost through the set-up either as all you have to do is fold it out, set the angle to best suit your players and you're good to go!
PLEASE NOTE: The RapidFire Gaelic Football Rebound Net is also available as a double-sided option too! This rebounder provides an excellent opportunity for teammates to train simultaneously, allowing them to perfect their understanding ready for a matchday.
Specifications
Gaelic Football & Hurling RapidFire Rebounder Specifications
Features:
Single-sided rebounder
Spring loaded 1 ½ inch (38mm) mesh target area
Comes with adjustable angle option for varied ball trajectory
Rebounder size: 3.2ft x 3.2ft | 1m x 1m
Frame folds away for portability and easy storage
Also available as a double-sided version for simultaneous trajectory variations and a wider variety of Gaelic football skills to practice
Want to chat?
Contact us here and we'll get back to you as soon as possible.
Super fast shipping
1 day shipping available
Questions & answers
Ask fellow customers what they think!
Hide Q&As
Questions & Answers
1 question | 1 answer
Hi does this pin into the ground? Hi
Answer this question >
Hello, thank you very much for taking the time to contact us. This item is completely freestanding, it does not need to be pinned into the ground.
Many thanks,
Grant
RapidFire GAA Gaelic Football & Hurling Rebound Net [Single Sided]
Thank you!
Your answer has been submitted.
We really appreciate you taking the time to help other customers, so please check your emails for a little thank you from us.
RapidFire GAA Gaelic Football & Hurling Rebound Net [Single Sided]
What would you like to know?
Thank you!
Your question has been submitted. You'll receive an email when an answer has been received.
Can't hang around? Contact us and we'll get back to you right away.
You may also like
FORZA Training Marker Cones
$10.99
RapidFire GAA Gaelic Football & Hurling Rebound Net [Double Sided]
$139.99
8 x 5 FORZA GAA Gaelic Football & Hurling Goal Posts
$145.99
8 x 5 FORZA Steel42 GAA Gaelic Football & Hurling Goal
$186.99
Portable Multi-Sport Hitting Net [7' x 7']
$79.99
Recently Viewed
Premium Quality Archery Backstop Netting
$89.99
Vermont ProCourt Mini Tennis Net & Racket Set
$99.99
6" Inner/Outer Circle Marker Discs [Pack of 25]
$35.99
Ultra Heavy Duty Soccer Goal Net [All Sizes]
$49.99
Backyard Cricket Set
$44.99