GMX Electric Spray Marking Machine - For Sports Pitches
GMX Electric Spray Marking Machine - For Sports Pitches
Self-Cleaning Electronic Pitch Marking Machine For Grass Surfaces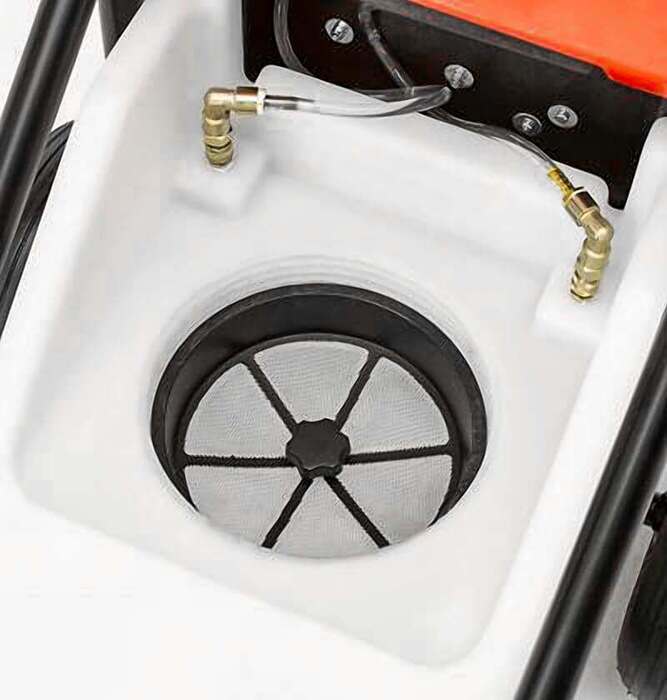 845fl oz Tank
Capable of holding up to 845fl oz of paint, you will be able to precisely mark out entire sports pitches on a single tank.
Sharp Paint Lines
With a self-mixing tank and priming pump paint will evenly be dispersed from the dual action nozzle which can adjust the thickness of marker lines.
High Capacity Battery
Recharges will be kept to a minimum with the line marking machine's high capacity battery that will not run out half way through a job.
Description
845fl oz Litre Self-Mixing Line Marking Machine With Dual Action Spray Nozzle
Precision line marking machine with a 845fl oz (25 litre) removable tank, which features an integrated paint mixing and self-cleaning system. The line spraying machine is designed to be used on grass surfaces, with a wide selection of spray painting options allowing you to precisely mark out grass pitches. Upgrade the machine to include an optional hand lance, chemical boom or an athletic twin spray boom.
Four wheeled GMX line marking machine for grass surfaces.
Self-priming electric pump guarantees even distribution.
Integrated paint mixing and self-clean system provides clear and consistent lines.
Fully adjustable handle which features the dual action spray switch.
Removeable tank has a capacity of 845fl oz (25 litres).
Supplied with a high capacity battery, condition meter and charger.
Machine weighs 60lbs (27kg) when empty.
Operational manual and maintenance manual supplied.
Optional hand lance, chemical boom or athletic twin spray boom.
You will have total control over the way your line marking paint is distributed with GMX's twin jet nozzle, which allows you to adjust the width of your marking lines and alter the spray of the paint to be central or offset. The fully removable tank is capable of holding up to 845fl oz (25 litres) of paint, enabling you to mark out full size pitches without the need to constantly refill the machine. Not only does the tank utilise an integrated paint mixing system but is also self-cleaning. These features combine to provide you with consistently smooth paint, whilst the field marking machines self-priming pump will deliver a steady flow of well-defined lines onto all grass surfaces.
There is no need to worry about this line marking machine struggling on uneven pitches. The four wheel design provides maximum stability across all terrains, whilst the extra durable wheels will not get stuck in particularly muddy pitches. This electric line marking machine is also suited for asphalt surfaces if used with the Wembley Line Marking Paint Concentrate [340fl oz] (sold separately). If used on asphalt surfaces lines will need to be repainted every 3-6 months depending on how frequently they are used.
To further enhance your line marking experience a selection of optional extras are available with the GMX. Firstly, there is the hand lance which is perfect for spraying paint onto hard to reach spots or the odd touch up job. Another option available is the twin spray boom which enables two marker lines to be applied at the same time, greatly reducing the time taken to paint running tracks. Finally, there is the chemical head boom which controls the flow of hazardous fluid onto the surface of your pitch further increasing your safety.
Please Note: It is recommended you manually wash the removeable tank after prolonged periods of use to ensure your machine continues to run in peak condition.
Specifications
Weight
Miscellaneous
Tank has a capacity of 845fl oz (25 litres)
Removable tank should be washed and drained manually after prolonged periods of use
Adjustable handle incorporates the dual action spray
Operational and maintenance instructions supplied
The GMX line marking machine can also be used to mark asphalt surfaces such as parking lots
Lines marked on asphalt surfaces will require remarking between 3-6 months depending on wear and tear
Want to chat?
Contact us here and we'll get back to you as soon as possible.
Super fast shipping
1 day shipping available
Questions & answers
Ask fellow customers what they think!
Hide Q&As
Questions & Answers
No one has asked a question yet!
You may also like
FORZA Soccer Crowd/Respect Barrier [65yrd/130yrd]
$79.99
Metric Measuring Wheel
$84.99
StadiumMax Wheel Transfer Line Marker - For Sports Pitches
$459.99