Standard Grade Soccer Goal Net [All Sizes]
Standard Grade Soccer Goal Net [All Sizes]
Premium Quality Football Goal Netting for Gardens and Clubs
Ultra-Durable Twine Netting
All netting size options are manufactured from 2mm thick twine ensuring the replacement goal net can be used for extended and prolonged periods of time without becoming damaged.
Find Your Perfect Match
Our affordable football net is available in a comprehensive variety of sizes, so you can find the perfect goal post netting to suit your requirements.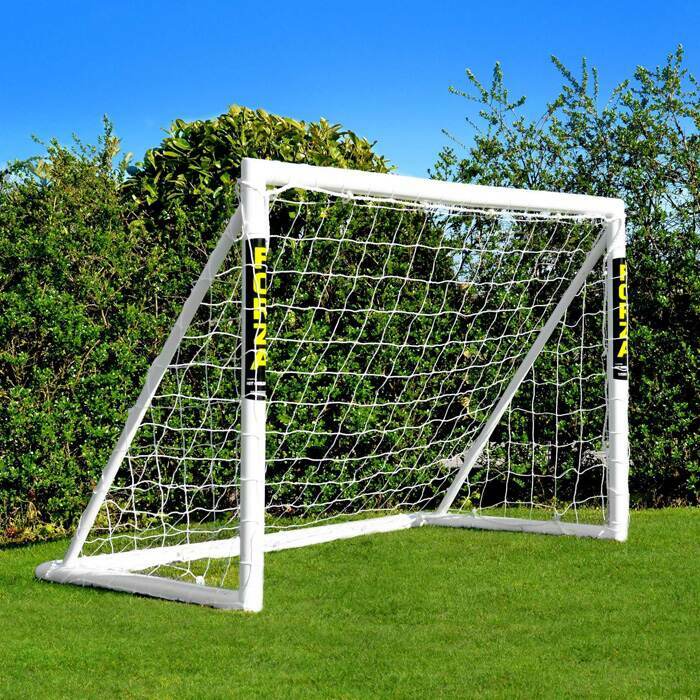 Weatherproof Netting
This football goal net has been UV treated and is fully weatherproof meaning that no matter what time of year it is, your game can go on.
Description
Highly Durable Economy Grade Soccer Net
This high-quality football net is the ideal match for our FORZA locking goal post range. The impressive netting grade ensures the replacement goal netting can withstand powerful strikes and poor weather conditions without any wear.
UV treated and weatherproof football net for protection against the elements
Perfect for use in the garden or on the training pitch
Replacement football net is manufactured from 2mm thick twine that provides added durability
Available in a variety of sizes from 6ft x 4ft (1.8m x 1.2m) to 16ft x 7ft (4.9m x 2.1m) providing solutions for various goal post frames
The affordable soccer net is designed to provide long-lasting performance for both back garden football or training ground play. The football nets feature 2mm thick twine as well as boasting a UV treated design, this football goal netting is built to last against tough outdoor conditions, whilst maintaining its professional look. The weatherproof properties of the netting for football goals helps ensure you can play all year round without the net incurring damage.
Available in several different sizes, this football goal net is sure to meet the needs of your family or football club. The wide range of sizing options ensures this goal netting can be used for a number of different needs. From 6ft x 4ft (1.8m x 1.2m) back garden football to 16ft x 7ft (4.9m x 2.1m) game football sizes, the goal post netting provides a reliable and affordable option for you or your club.
PLEASE NOTE- This item is for the football goal netting only. Goal posts are sold separately.
Specifications
Dimensions
Sizes available: 6ft x 4ft, 8ft x 4ft, 8ft x 6ft, 12ft x 6ft, 16ft x 7ft, 3m x 2m
Materials
Manufactured to top spec 2mm soccer netting grade
Miscellaneous
Suitable for FORZA Locking goals
Suitable for goal posts with top depth and a top runback
Net colour = White

PLEASE NOTE: This listing is for a NET ONLY. Goals are sold separately.
Don't just take our word for it
Great quality, great price
Really good net, my boy loves it
Ease of ordering good delivery.☺
A strong and sturdy net ideal for replacing old one
Want to chat?
Contact us here and we'll get back to you as soon as possible.
Questions & answers
Ask fellow customers what they think!
Hide Q&As
Questions & Answers
4 questions | 4 answers
Is this from newzealand thanks
Hi Trevor, thank you for the enquiry. No, this comes directly from the U.K like all of our products. We are a U.K based company that distributes our products directly, worldwide.
Hi Jim, thank you very much for the enquiry. Unfortunately clips do not come with replacement nets, these have to be purchased separately.
Kind regards,
Is this goal easy to assemble / disassemble and what is the total weight?
Hi Iwan, Thank you for your question. The listing that you are currently looking at is for the net only. No frame work is supplied with this particular product. We do however sell a range of goals which can include PVC, Steel and Aluminium framework. Many thanks, Tom
You may also like
Heavy Duty Soccer Goal Net [All Sizes]
$27.99
Ultra Heavy Duty Soccer Goal Net [All Sizes]
$55.99
Stop That Ball™ - Ball Stop Net & Post System
$119.99
Striped/Two Color - Soccer Goal Net [10 x Color Options]
$74.99
Custom Soccer Goal Nets [Any Color]
$71.99