Exercise & Yoga Mat – 1/4 Inch Non-Slip
Exercise & Yoga Mat – 1/4 Inch Non-Slip
Blue 6ft x 2ft Easy Clean Non-Slip PVC Fitness Mat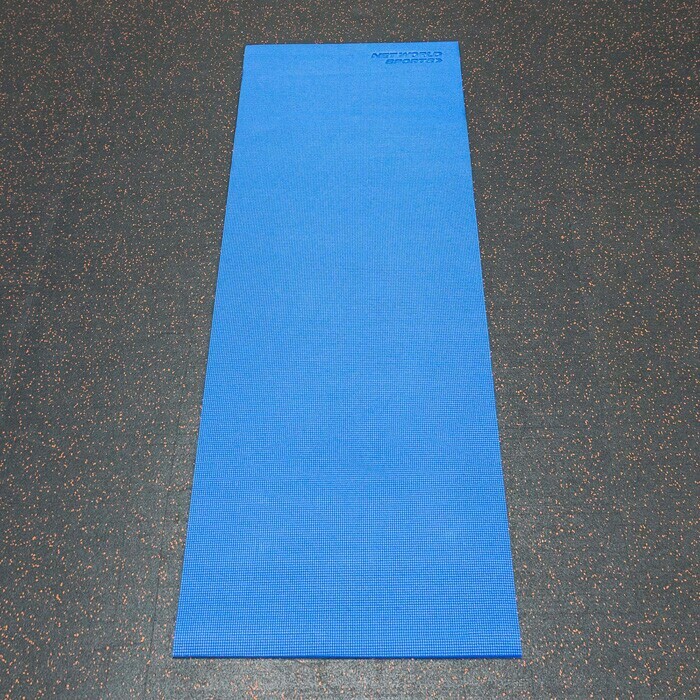 A Yoga Mat For All Sizes
This non slip yoga mat measures 6ft x 2ftmeaning even the tallest yogis can enjoy a relaxing session without falling off the mat.
Roll Up In Seconds
Our lightweight yoga mat rolls out and can be rolled away in no time at all, which makes storing and transporting your fitness mat a breeze.
Non-Slip Foam Surface
The yoga mat has a textured waffle foam surface which prevents the mat from slipping whilst you perform your daily yoga workout on hard floors.
Description
6ft Long Fitness Mat For Yoga And Stretches
Whether you are mastering the firefly pose or learning the ropes with the downward dog this ¼ inch (6mm) thick roll up yoga mat is the perfect base to preform stretches, yoga and Pilates. Manufactured from waffle textured PVC, our fitness mat is guaranteed to stay in place during your workouts. Measuring 6ft (183cm) long by 2ft (61cm) wide this non-slip yoga mat offers enough room the tallest yogi.
Roll up fitness mat perfect for yoga, Pilates and stretches.
Manufactured from blue ¼ inch (6mm) thick PVC for comfort and shock absorption.
Easy clean foam keeps your mat in top condition.
Waffle textured non-slip surface ensures your yoga mat remains still during exercises.
Measures 6ft (183cm) long by 2ft (61cm) wide.
The PVC yoga mat is ¼ inch (6mm) thick to provide enhanced shock absorption. The thick exercise mat acts as a cushioned barrier between yourself and the hard floor. It is important to reduce the strain on your joints and muscles whilst performing yoga which is why our ¼ inch (6mm) thick workout mat is perfectly suited to be the base for all your fitness workouts and stretches.
Manufactured from a grippy waffle textured non-slip PVC foam, this mat will stay in place on hard, flat surfaces such as sports halls and wooden floors. The waffle pattern adds grip to the PVC mat, which prevents you from sliding around during stretches. This PVC yoga mat measures 6ft (183cm) long by 2ft (61cm) wide which leaves enough room for even the tallest person to perform the dolphin plank or wide legged forward bend. Despite the large yoga mats size, it can be rolled up for easy transportation and storage after sessions.
Specifications
Dimensions
6ft (183cm) long by 2ft (61cm)
¼ inch (6mm) thick yoga mat
Material
Manufactured from textured non-slip PVC foam
Colour Blue
Miscellaneous:
Textured, non-slip surface
Easy clean design
Net World Sports embossed logo
Want to chat?
We're here on

live chat

right now!
Or via phone or email if you'd prefer...
Super fast shipping
1 day shipping available
Questions & answers
Ask fellow customers what they think!
Hide Q&As
Questions & Answers
No one has asked a question yet! Be the first to ask one.
Exercise & Yoga Mat – 1/4 Inch Non-Slip
Thank you!
Your answer has been submitted.
We really appreciate you taking the time to help other customers, so please check your emails for a little thank you from us.
Exercise & Yoga Mat – 1/4 Inch Non-Slip
What would you like to know?
Thank you!
Your question has been submitted. You'll receive an email when an answer has been received.
Can't hang around? Contact us and we'll get back to you right away.
You may also like
Shaker Bottle (24fl oz)
$4.99
Tri Folding Yoga Mat
$39.99
FORZA Speed Training Hurdles [6 Pack]
$19.99
Running Water Bottle (17fl oz)
$3.99
Recently Viewed
Premium Quality Archery Backstop Netting
$89.99
Soccer Goalkeeper Training Tackle Bag
$129.99
Mobile Ball Stop Net - 130ft x 19ft
$8,359.99
10ft x 6.5ft FORZA Handball Goal Target Sheet
$46.99
Paceman Bowling Machine 2018 [Strike]
$601.99