FORTRESS Roll Down Cricket Matting [6.5ft Wide] - Indoor / Outdoor
FORTRESS Roll Down Cricket Matting [6.5ft Wide] - Indoor / Outdoor
11mm Thick Heavy Duty Club Spec Cricket Matting With Non Slip Matting
Realistic Ball Performance
This 11mm thick portable cricket matting features a high-quality shock pad that will mimic the bounce of a traditional cricket green, even indoors.
Weatherproof Cricket Matting
As this cricket wicket matting is manufactured from UV stabilised polypropylene allowing use this mat outdoors during intense sunlight.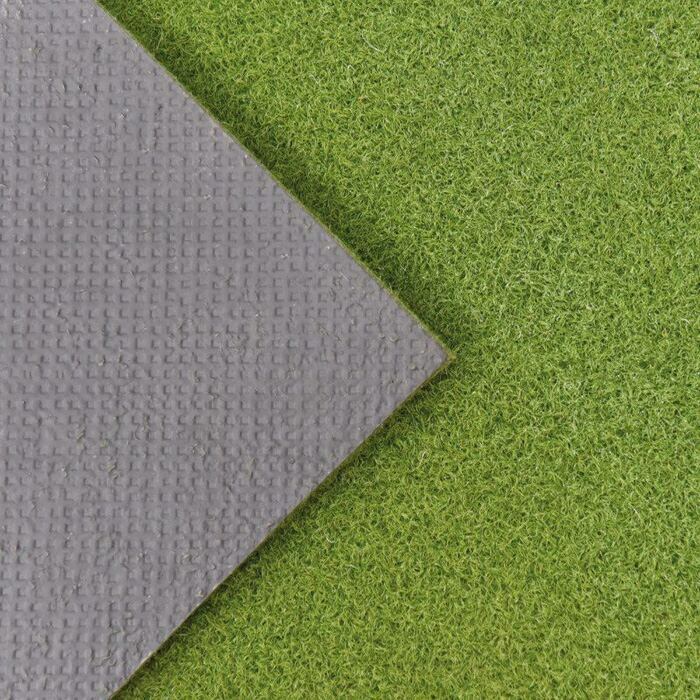 Easy To Store
Rolling this practice cricket matting up for storage will not cause any damage making it ideal for cricketers that do not have the luxury or a permeant field.
Description
Premium FORTRESS Roll Down Cricket Matting – High Performance Indoors & Outdoors
The number one choice for cricket clubs, schools & home cricket set-ups, the upgraded FORTRESS Roll Down Cricket Matting allows for almost instant play on any flat surface. Featuring a new & improved design, the cricket carpet has been expertly manufactured using a long-lasting tufted yarn material which combines with a PU foam backing/shockpad for perfect spin & bounce characteristics. An excellent option for where permanent wickets aren't suitable, this market-leading FORTRESS cricket matting will maintain its supreme performance levels in indoor & outdoor conditions.
What Makes Our Matting The Best On The Market?
Excellent Spin & Bounce Characteristics
We have redesigned the artificial cricket carpet to improve performance and make it feel more like playing on a natural turf wicket. The 11mm thick matting with built in foam shockpad gives the ball the correct bounce performance (not too high or too low) when rolled onto a hard flat surface. The high yarn density of 67200 tufts per square metre, enhances the mattings grip on the ball, making it perfect for spin bowling.
Strong Weatherproof Construction
The green yarn (artificial grass blades) are made from high gauge (thick) polyethene (HDPE) that is 100% rot proof and UV treated so it doesn't degrade in the sun. The yarn compacted together and glued to the foam backing using SBR latex bonding, so it doesn't fall apart. The yarn, backing and glue is formulated to withstand years of use.
3 Year Warranty & Lifespan Up To 10 Years
Our cricket matting is strong, robust, long lasting and 100% weatherproof. It comes with a 3 year warranty (when correctly used/maintained) and lasts up 10 years. Lifespan depends on the surface(s) its placed on, the environment it is used in, how well it is maintenance and the amount of use it gets per week.
Performance Consistency
Any competitor can say that their artificial cricket carpet will last years, but this is pointless if the performance suffers over time to create a poor playing surface. This mainly happens due to the green yarn (artificial grass blades) distorting or leaning to one direction over time creating inconsistent/irregular ball bounces and poor grip/ball spin.
Our FORTRESS Roll Down Cricket Matting has been specially manufactured with a curled yarn making it non directional. This means that the yarn on this matting will not distort or lean to one side, even after years of usage and repeated foot traffic over the surface. Our curved yarn technology ensures excellent bounce and spin performance every time.
Built In Shockpad/Underlay
This matting comes with a built in 3mm PU Foam Shockpad/Underlay that absorbs player and ball impact.
Benefits of the built-in shockpad/underlay:
Increases the matting's lifespan
Helps protect the floor/surface that the matting is being placed on
Makes it kinder on player's joints (it reduces impact stress)
Stops the ball bouncing too high when placed on a hard surface
Grips most surfaces to stop the matting slipping/sliding/moving when being played on
Simple Maintenance Tips
Always roll (never fold) the matting when storing away. Folding the matting will cause creases/kinks in the matting and over time can split/crack the PU Foam backing.
If the matting is being used outdoors, then we strongly recommend storing it away indoors when not in use. Storing the matting inside prevents dirt/moss build up and prolongs its lifespan. If you do leave the matting outside permanently, it can be cleaned with cold hose pipe water and a stiff brush (do not use a pressure washer).
Specifications
FORTRESS Roll Down Cricket Matting Specifications:
Dimensions:
Matting Width: 2m | 6ft 6in
Matting Thickness (including backing): 11mm | 0.5in
Matting Weight (per square metre): 4.5kg | 10lbs
Matting Weight (per square foot): 1.5kg | 3.3lbs
Materials:
Matting features a tufted cricket matting construction (texturised)
KDK fibrillated yarn manufactured from ultra high density, virgin grade polyethylene (HDPE)
Yarn Density: 67200 stitched per square metre
Shockpad/Underlay: 3mm thick PU foam
Yarn & backing is bonded together using SBR Latex Glue
Miscellaneous:
Yarn Colour: Green
Backing colour: Grey / Black
Suitable for indoor & outdoor use
Matting is 100% weather-resistant & UV treated for long-lasting performance
3 Year Warranty / 10 Year Lifespan
Want to chat?
Contact us here and we'll get back to you as soon as possible.
Super fast shipping
Express shipping available
Questions & answers
Ask fellow customers what they think!
Hide Q&As
Questions & Answers
1 question | 1 answer
What kind of surface prep is required for the underlying surface if the mat is to be placed in an open soccer field?
Hello Rashiek, Thank you for your question. The matting can be placed on any flat, hard surface. This allows for a more realistic bounce bounce of the ball. Many thanks, Tom
You may also like
Run-Up/Surround Cricket Matting - 13ft Wide (Outdoor/Indoor)
$121.99