FORZA Icon+ Official Match Soccer Balls [FIFA Quality Pro]
FORZA Icon+ Official Match Soccer Balls [FIFA Quality Pro]
FIFA Quality Pro Certified Match Soccer Ball - Suitable for All Ages
FIFA QUALITY PRO MATCH BALL
Put through testing in the manufacturing process, this match ball possesses first-class performance, accuracy & safety. Evidence of its optimal performance for use at the highest level.
PINNACLE FEEL & PERFORMANCE
Expertly designed from hybrid construction and an unrilvalled butyl bladder, this pinnacle match ball maintains a consistent & professional level of performance on every match day.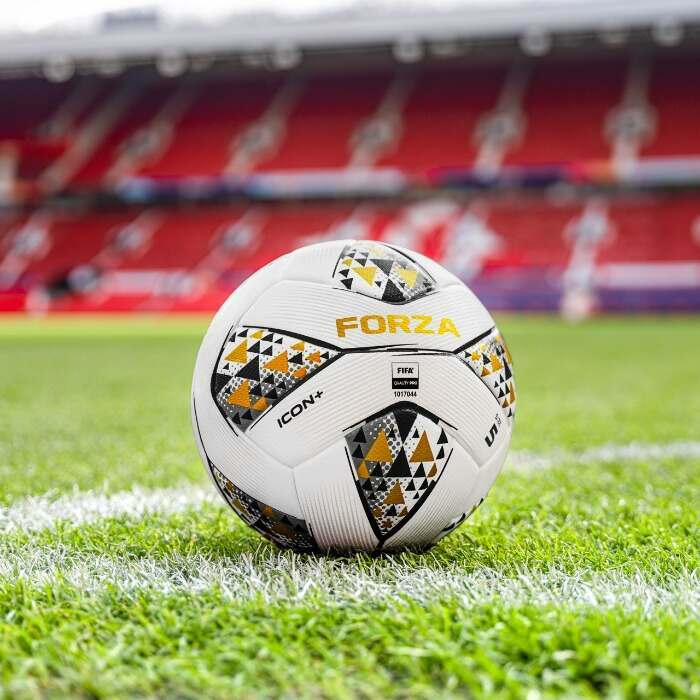 OFFICIAL FORZA PRO MATCH BALL
Meticulously crafted to deliver the perfect blend of quality, durability, & performance. With its 1.2mm leather outer material, this ball offers players unparalleled control for optimum results.
Description
FORZA Icon+ Match Soccer ball - Official FIFA Quality Pro Certified
Introducing the FORZA Icon+ Soccer ball. Flawlessly designed & manufactured to a world-class standard, gracefully boasting Official FIFA Quality Pro certification. This soccer ball stands strong in the highest tier of soccer ball testing, undergoing stringent evaluations & the harshest conditions to guarantee its performance reaches the pinnacle of the sport. The first-choice match ball for elite clubs internationally. Available in packs of 1, 3, & 12, these soccer balls are an essential addition to enhance performance for soccer clubs of all standards. Size 3, 4 & 5 soccer balls are available in each pack size providing a match ball for all players, ranging from young children all the way up to professional senior soccer teams.
FORZA Icon+ International Match Soccer Ball - Official FIFA Quality Pro Certified
Manufactured with industry leading materials providing incomparable quality & results
FIFA certified soccer ball available in sizes 3, 4, & 5 with pack options of 1, 3 & 12
Thermal bonded 24 panel design provides a stitch-less construction from panel to panel
Constructed with exceptional quality, durability & outstanding performance all year round
Suitable for all age groups from grassroots to professional soccer clubs internationally
Manufactured using industry leading materials, the construction of the FORZA Icon+ Soccer Ball is unmatched, second to none. Combining top-quality materials with an expert 24 panel design, the match ball is in a league of its own, a cut above the rest. See below for the construction breakdown that makes this Official FIFA Quality Pro certified soccer ball the number one choice by elite clubs.
Thermal Bonded Panels - Experience a cutting-edge design with 24 panels, expertly thermally heat bonded for a seamless, stitch-less construction. Renowned for enhancing accuracy & durability, this technology ensures that your ball lasts longer. The thermo-bonded structure also minimizes water absorption, maintaining its shape, & delivering peak performance throughout the year, on all playing surfaces.
Butyl Bladder - Featuring a premium butyl bladder for exceptional air retention aimed at unlocking superior performance. Reinforced with a latex outer layer, this not only ensures longevity but also provides a slightly lighter touch compared to butyl alone. This innovative design guarantees a high-performing bladder, striking the perfect balance for a match soccer ball.
Premium PU Leather Surface - Crafted from polyurethane, this ball boasts exceptional flexibility & durability. It seamlessly adapts upon impact, swiftly regaining its original shape. The material is not only highly water-resistant but also scratch-resistant, ensuring a long-lasting & world-class quality soccer ball. 3D Icon Technology surface indentations offer unmatched grip for ultimate enhanced performance. Coupled with a 3.5mm foam layer, this ball delivers an optimal air cushion, elevating ball feel & control to the highest level.
Specifications
FORZA Icon+ Soccer Ball Specifications
ICON+ SIZES:
Size 3 - Kids
Size 4 - Juniors
Size 5 - Seniors
BALL CONSTRUCTION
Outer Layer: Hi Abrasion PU
Surface: 3D Icon Technology Indentations
Lining: 3.5mm EVA Foam layer
Surface Layer Thickness: 1.2mm
Bladder: Butyl Bladder
Panels: 24 thermally bonded
Casing Material: Premium PU Leather
Lining Adhesive: Natural Latex
Surface layer adapts upon impact
MISCELLANEOUS
Ball color: White, Black & Gold
Available in sizes 3, 4, & 5
Available in packs of 1, 3 or 12
Official FIFA Quality Pro Certified
Requires inflation before use
Pump not included
Don't just take our word for it
Top-quality football. We have played with many footballs from all of the big brands but FORZA is our first pick. Everything about this ball is premium. Wouldn't recommend any other.
Want to chat?
Contact us here and we'll get back to you as soon as possible.
Super fast shipping
Express shipping available
Questions & answers
Ask fellow customers what they think!
Hide Q&As
Questions & Answers
No one has asked a question yet!