12 x 6 FORZA Soccer Goal Post
12 x 6 FORZA Soccer Goal Post

12 x 6 FORZA Soccer Goal Post - Regulation Size Mini-Soccer Goal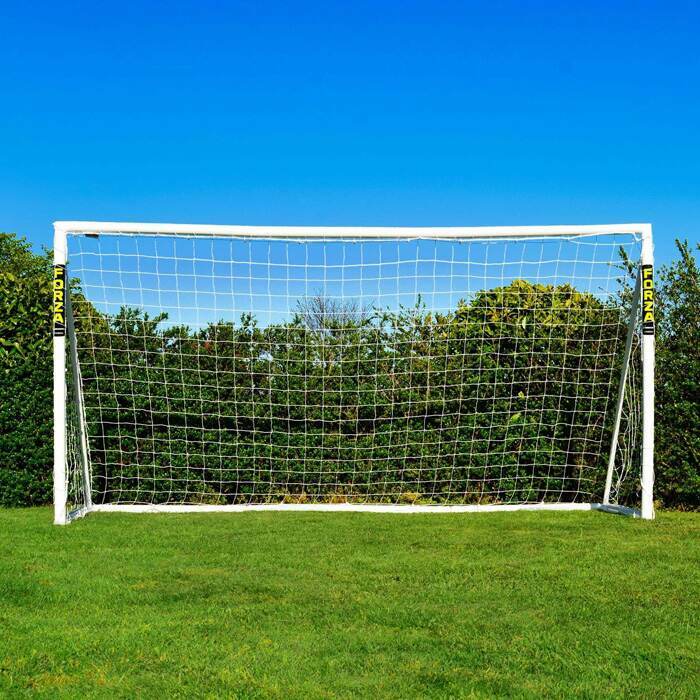 Mini Soccer Practice Goal
Official sized Mini Soccer goals perfect for backyard training sessions. Make the most of kick about's with this super strong PVC soccer goal.
Essential Locking System
Every FORZA goal has an essential locking system which keeps the frame strong and secure, absorbing impact from the hardest of hits.
Quick and Easy Goal Assembly
The FORZA goals are ready for action in minutes, and once they are built they can be left up in the backyard in all weather conditions.
Description
12 x 6 FORZA Soccer Goal – PVC Mini-Soccer Goal For Backyard Games
Standing at 12ft x 6ft, this official regulation sized soccer goal for mini-soccer is the ultimate PVC goal for kids. Having been made from the very best materials available, the weatherproof soccer goal has been designed to provide year-round backyard soccer games and training sessions to youngsters. Lightweight and highly durable, the 12 x 6 backyard goal has an essential locking system for supreme rigidity.
Regulation sized 12ft x 6ft soccer goal for mini-soccer and 7v7 games, perfect for use in the backyard by kids
Exclusive essential locking system to provide strength, stability and rigidity throughout use
Quick and easy to assemble soccer goal frame takes minutes to fully set-up
High strength weatherproof uPVC goal frame absorbs high velocity impact with ease
2mm twisted UV stabilized soccer nets included for first-class performance and weather protection
The robust PVC goal frame is ideal for consistent games and training sessions over the course of the year having been made with durability and weather-resistance in mind. Proficient at dealing with the impact of the elements, the fully weatherproof soccer goal for kids is suitable for outdoor storage all year long, negating the need to constantly take the goal down after use. Complementing the strong PVC goal posts is the 2mm UV stabilized HDPE twisted goal net, which performs to its peak during all weather conditions. FORZA stock the best soccer nets on the market.
For heightened durability and firmness, the state-of-the-art essential locking system of the backyard goal safeguards the integrity of the structure, boosting its robustness. The pristine PVC posts lock together effortlessly, connecting to deliver a sturdy soccer goal with the capabilities of withstanding weighty impact from strikes. This essential locking system encourages resilience and strength while providing the freestanding portable soccer goal with a lightweight and easy to lift finish.
At the heart of the 12 x 6 FORZA soccer goal is its staggeringly quick and easy assembly. The easy to assembly PVC goal takes minutes from beginning to end, allowing your backyard goal to be ready for use in no time. Fit for purpose as a mini-soccer training goal for kids while simultaneously pulling double duty as a family soccer goal, its versatility allows it to be used by a various age groups and for various purposes. Featuring an essential locking system, strong PVC posts and a twisted HDPE goal net, all the fixtures and fittings are included to guarantee easy attachment.
PLEASE NOTE - This 12 x 6 FORZA Soccer Goal Post is a part of the FORZA Soccer Goal family. There are multiple sizes of essential locking system soccer goals to choose from, which can be located here.
Specifications
Dimensions:
• Goal Size (Length x height): 12ft x 6ft
• Bottom depth of 4ft (1.22m)
Material:
• 0.08in UV stabilised HDPE net supplied with every goal
• Net has reinforced edges
• The frame is made from strong uPVC
Miscellaneous:
• Comes with a 1 year warranty
• Package size (Length x width x height): 117cm x 27cm x 20cm / 46in x 10in x 7in
• Weight of package: 14kg / 30.8lbs
Don't just take our word for it
Fantastic set of goals for the garden, we bought two plus target net and a ball. Goals were well built, very solid, and easy to assemble so easy that my two 9 year olds assembled them and theyre still standing after a daily battering with penalty shoot outs! Just the right size too so theyll last for the next few years at least.
Good solid football goal with thick plastic poles which fit together really easy to make a great quality goal. Would definitely recommend using the included metal pegs to secure it down, especially if your leaving it out all year, we even bought some spares which we use on particularly windy days. Looks so great in the garden and keeps the kids away from the playstation – winner!
I bought this goal from Networldsports 12 months ago for the village playing field and were very impressed with how sturdy it was so bought another this year. The first one is now missing the 2 diagonal poles probably due to vandals but we have ordered spares which will be arriving any day now. Construction was easy with 2 people and took about 30 minutes in total. Definitely recommend to anyone looking for a good quality goal!
These are the best footy nets we have every purchased! my 12 year old son and his mates also agree! I've even caught the husband having a go and thinking he's some hotshot Premier League footballer! The structure is great, and delivery service was speedy. Overall quality purchase.
Bought this goal for my sons. They've been using it lots, regardless of the weather conditions. As a parent I'm happy as it's holding up very well. Its very sturdy for a garden goal, and it hasn't looked like breaking no matter what the boys throw at it.
Want to chat?
Contact us here and we'll get back to you as soon as possible.
Super fast shipping
Express shipping available
Questions & answers
Ask fellow customers what they think!
Hide Q&As
Questions & Answers
18 questions | 18 answers
Does it come with a football?
Hi Karen, thank you very much for the enquiry. This product does not come with a football sorry however, we do have a variety of footballs available on our site at a range of price points.
is it in box? When you send us
Hi Jack, thank you very much for the enquiry. Yes, I can confirm that all of our goals come packaged in a Net World Sports/FORZA branded box when they are delivered to our customers.
Kind regards,
Grant
Hello I was wondering if it comes with both soccer's goals or just one?
Hi Rico, thank you very much for the enquiry. These specific goals are sold individually. Any of our goals that are available as a pair will have the option to select a single or a pair on the listing.
Many thanks,
Grant
What size goal would you recommend for my 8 and a half year old for back garden?
Hi Gina, thank you very much for the enquiry. Usually we would recommend the 8' x 6' or 12' x 6' for this age, both sizes will work just fine!
Many thanks,
Grant
What diameter are the posts/crossbar?
Hi Nicu, thank you very much for the enquiry. Our FORZA PVC goals are made from 68mm tubing.
Many thanks,
Grant
Do you sell replacement pieces?
Hi, thank you very much for the enquiry. These goals do not fold I'm afraid however, they can be taken down and put back up again very quickly. You can also store and transport the goals in the carry bag that is available on our site!
Many thanks,
Grant
Hi Chris, Thank you for your question. I can confirm that the nets are included with this goal post. With all of our goal posts at Net World Sports nets do come included. Also included on this particular goal are the net clips and U shaped pegs to secure the goal into the ground. Many thanks, Tom
Thinking of this for my son-in-law for Christmas. Is this suitable as can only see reviews for children usage. THANKS
Hello Liz, thank you very much for the enquiry. This goal is perfect for garden use for children in there early teens. It is also fine to use for younger children that are playing with there parents in the garden. The PVC is 68mm thick and the net is strong enough to withstand shots from most children.
Many thanks,
Grant
Hello just wondering if everything comes in one delivery or does it come in more then one package like for instances does the net come in one and the pvc come in another?
Hello Ashley, Thank you for your question. All of the materials including the framework, netting, clips and pegs will all be delivered in one single box. If you have any further questions please do let me know. Many thanks, Tom
What size net is good for a 12 year old
Hello Sharon,
Thank you for contacting us, the 12x6, 3x2 and 16x7 goal sizes will all be suitable for you. If you would like any pricing or more information regarding the goals, please contact sales@networldsports,com who will be happy to help.
Kind regards,
Alex
How much does aluminium cost?
Hi Anderson,
Thank you for contacting us, we do have a variety of different aluminum goals available from our ALU60, ALU110 freestanding and ALU110 socketed range. If you could contact sales@
networldsports.com
they will be able to send you over pricing for the goal you require.
Kind regards,
Alex
Looking for cost efficient goals for our school playground (pk-5th graders) would these suit that purpose?
Hi Shantell,
Thank you for your question, the 12 x 6 goal is suitable for children aged 13-17 years the 8 x 6 is for ages 7-13 and finally the 6 x 4 is for ages up to 6 years.
We do have a large range of goals available which range from PVC, Steel and Aluminium. If you would like me to send you some pricing fro this or have any further questions, please do email sales@
networldsports.com
and we will be more than happy to help.
Best wishes,
Alex
Does a net come with this ?
Hello Joe, Thank you for your question. I can confirm that this goal post does include the net, the clips to attach the net to the framework as well as U-shaped pegs which secure the framework into the ground. Many thanks, Tom
Can you buy replacement parts for this net?
Hello Kristina, Thank you for your question. We do sell replacement parts for the goal post and also have replacement nets and clips available in case any get damaged or get lost. Many thanks, Tom
Is the goal 12 feet TALL and 6 feet WIDE or the other way around?
Hi there, thank you for your question. The goalpost is actually 12ft wide and 6ft tall. Please let me know if you need anything else. Many thanks, Dan.
Would this be strong enough for older teenagers and their dad to score goals
Hi Trish, thank you very much for the question. Yes, this goal would be perfectly fine for just garden/yard use. However, if you're looking for something slightly more durable we have this size goal available in steel and aluminium.
Many thanks,
Grant
How easy is it too take down
Hello, Thank you for your question. Due to this goal post using locking clips all of the parts simply join together very easily. The maximum amount of time this should take 10-15 minutes putting it up and then the same amount of time taking it down. You can see a video tutorial to this via the link below:
https://www.youtube.com/watch?v=qAizMryK8FY
Many thanks, Tom
You may also like
8 x 6 FORZA Soccer Goal Post
$139.99
10 x 6 FORZA Match Futsal (3m x 2m) Goal Post
$219.99
Freestanding STOP THAT BALL™ - Ball Stop Net & Posts [10ft High]
$179.99
12 x 6 FORZA Steel42 Soccer Goal
$329.99
12 x 6 FORZA Alu60 Soccer Goal
$659.99
Recently Viewed
FORZA 3ft/6ft Slalom Training Poles [1.5"] - 4 Colors
$64.99
FORZA Speed Training Hurdles [6 Pack]
$26.99
FORZA Training Hurdle Carry Bag
$10.99
Speed & Agility Soccer Training Ladder
$11.99