8 x 4 FORZA Match Soccer Goal Post
8 x 4 FORZA Match Soccer Goal Post

8 x 4 FORZA Match Soccer Goal - PVC Soccer Goal For Kids
Kids Match Soccer Goals
The versatile 8 x 4 soccer goal be used for under 10s tournaments and matches as well as having the versatility to be used as a backyard goal.
Essential Locking System
Every FORZA soccer goal has an essential locking system which keeps the frame strong and secure, absorbing impact from the hardest of shots.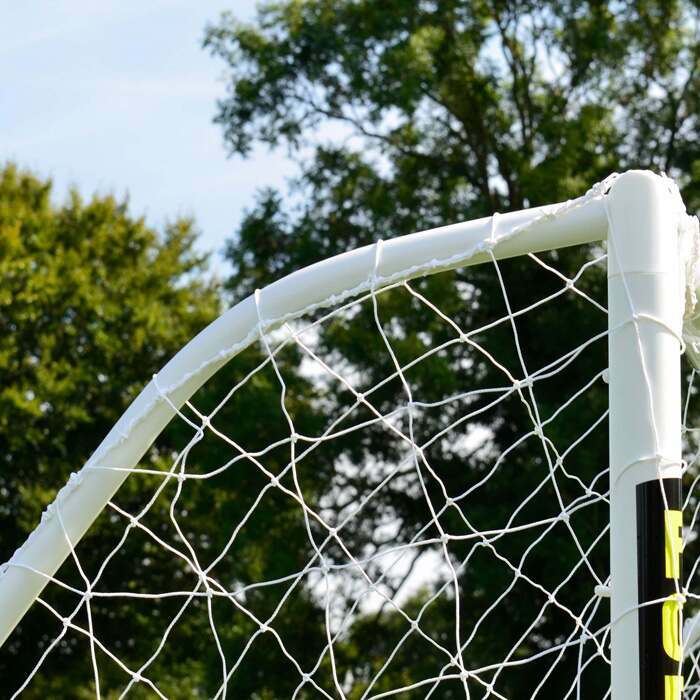 Quick And Easy Assembly
The FORZA Match soccer goals are ready for action in minutes, and once they are built they can be left up on matchdays whatever the weather conditions.
Description
8 x 4 FORZA Match Soccer Goal – Top Quality PVC Match Goal Suitable For Use As A Backyard Goal
Designed for use during matches, tournaments and garden games, this 8 x 4 match soccer goal for kids brings a high-quality touch to junior's soccer. Embodying a game-changing hat-trick of weather-resistance, portability and stability, the PVC goal is incredibly reliable and built to last. The best kids soccer goal, the FORZA Match freestanding goal is incredibly versatile and lightweight enough to be moved about with ease.
8ft x 4ft FORZA Match Soccer Goal suitable for use in kids matches, tournaments and backyard kickabouts
Quick and easy to assemble in a matter of minutes, securely connecting with the greatest of ease
Essential locking system bonds the goal frame together to provide stability and rigidity in abundance
Weatherproof PVC goal frame which features top depth for increased levels of solidity
Comes equipped with a 2mm HDPE UV treated soccer nets as well as strong net clips and u-peg ground anchors
Adhering with FA Match regulations as well as conforming to BS EN safety standards, the 8 x 4 kids soccer goal can be used as an official matchday goal during under 10s matches and tournaments. Made with versatility in mind, its sturdy PVC structure also makes it perfect as a quality backyard goal due to its weatherproof design and high levels of durability. Its seemingly endless array of uses also makes it suitable for training use, especially as a small-sized target goal for senior coaching drills such as short-range passing.
Keeping its finger pressed firmly on the pulse of innovation, the 8 x 4 kids goal has an essential locking system to provide ultimate rigidity and stability throughout the use. This premium feature locks the PVC posts into place, holding them steady against the impact of shuddering collisions. Taking stability to the next level, the top depth of the goal offers additional robustness, ensuring that the position of the freestanding soccer goal remains fixed no matter what comes its way. Strong and stable, the weatherproof PVC backyard goal is in it for the long haul.
Capable of being carried by just one person, the lightweight portable match goal is also incredibly quick and easy to assemble, providing convenience to match its impeccable quality. The tough weatherproof PVC posts can also be left set-up outdoors all season long without falling foul to the negative effects of the elements. The goal includes a 2mm HDPE OD twisted UV treated goal net, providing quality all-weather performance. Attaching the net is easy due to the sturdy net clips, with u-pegs also included for secure rooting to outdoor surfaces.
PLEASE NOTE - The 8 x 4 FORZA Match Soccer Goal is part of a wider range with other sizes available. The rest of our PVC goals can be found here.
Specifications
Dimensions:
8ft x 4ft
Bottom depth - 4ft
Material:
Made from uPVC with enhanced back profile
2mm UV stabilized HDPE net supplied with every goal
Net has reinforced edges
Miscellaneous:
This goal can remain outdoors all year round without fear of corrosion occurring
Goal can be moved easily and taken down to be easily transported
Goal comes with a 1 year warranty
Don't just take our word for it
It is what it is and looks good and sturdy so far!!!
Good service..............
Strong sturdy goal. Perfect forr the garden now my ten year old knows how to kick a ball! Survives the cross bar challenge...
Want to chat?
Contact us here and we'll get back to you as soon as possible.
Super fast shipping
Express shipping available
Questions & answers
Ask fellow customers what they think!
Hide Q&As
Questions & Answers
2 questions | 2 answers
Hi, what size goal would you rrecommend for my 6 year old son? Many thanks.
Hi Gaz, thank you very much for the enquiry. The size we usually recommend for kids of this age would be either a 6' x 4' or 8' x 4' depending on the space you have available.
Kind regards,
Grant
Is this goal the right size for 10 - 12 year olds please
Hello Gina, thank you very much for the enquiry. We usually recommend something slightly bigger for this age, either a 12' x 6' or an 8' x 6' depending on how much space you have and how much you are looking to spend. If either of these are a major factor then I'm sure the 8' x 4' will suffice however, they may grow out of it relatively soon!
Many thanks,
Grant
You may also like
10 x 6 FORZA Match Futsal (3m x 2m) Goal Post
$229.99
8 x 6 FORZA Soccer Goal Post
$149.99
5 x 4 FORZA Match Soccer Goal Post
$109.99
12 x 6 FORZA Soccer Goal Post
$169.99
6 x 4 FORZA Soccer Goal Post
$94.99