FORZA TD100 Football Game ball
FORZA TD100 Football Game ball
Score In Style With The Premium FORZA Regulation Sized Football
High Quality Football
Don't turn down quality when choosing your balls. Ensure every practise and game feels like the Super Bowl with high quality leather and reinforced rubber bladder materials.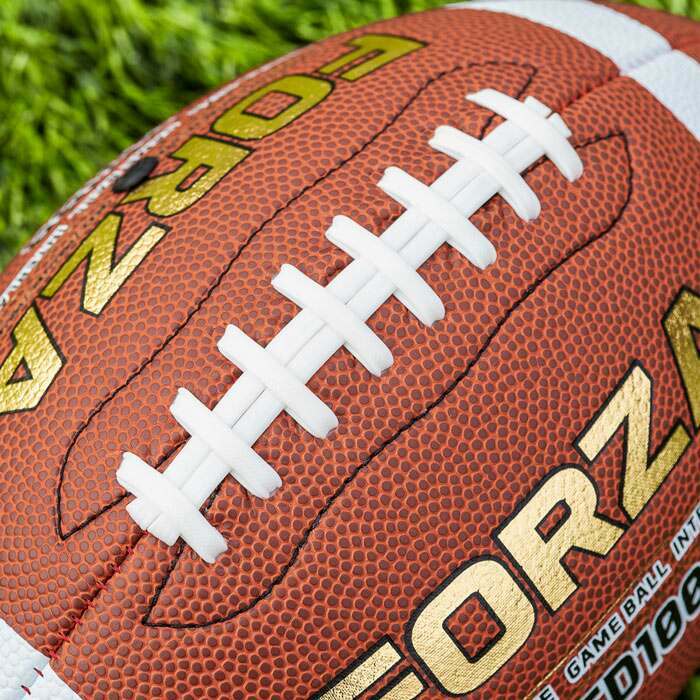 Technologically Advanced Football
A Pebble Grip Finish helps improve handling and catching for all running backs and wide receivers. F-Grip™ laces optimise Quarterback control through design.
Available In 4 Sizes
Available in Pee Wee, Junior, Youth and Official game sizes so kids aged 6 upwards can experience professionalism that the ball brings.
Description
FORZA Official Size Football – PU Leather Game Ball
A professional football game ball fit enough to be used in the Super Bowl. There is no better way to train and progress than with your very own NFL official sized game ball. This PU Leather football provides the ultimate quality to enhance performance through its Pebble design to improve grip and durability. Sporting a traditional white stripe design and F-Grip™ technology, this professional football ball oozes class and control.
Enhanced strength rubber bladder for improved air retention
F-Grip™ provides optimum ball carrier control
Features Interlaced upper body to allow top performance
Available in 4 different sizes – Pee Wee, Junior, Youth, and Official
Traditional white stripes to help aid catching visibility
Outer cover made of PU Leather with a pebbled grip finish to enhance durability and comfort
Pee Wee and Junior sizes available as a single, in packs of 3 or 45
Youth and Official sizes available as a single, in packs of 3 or 40
Not only is this official Game ball ideal for solo or squad practice, but it also excels in an in-game scenario. With a wide selection from Pee Wee and Junior football sizes, all the way to official ball sizes used in the NFL and NCAA, there is an option to suit every need. Take this high-quality football to the field for fun or at any level of competition including flag football and experience the feel of being in the NFL. Whether it is kids' backyard football, High school or the collegiate level, this FORZA TD100 football ball is ideal in any situation.
Having been specifically designed to enhance your performance, the ergonomic design of the pebble pattern provides a comfortable experience when handling, catching, kicking and throwing the football. PU Leather reinforces the strengthened rubber bladder to provide a durable and high-quality football that can outperform the best footballs around.
Available as a single or in packs of 3, 40 or 45, this high performing football is perfect for club purchase or the individual looking to get more practice. Why not purchase this ball along with some of our other football Equipment such as the FORZA Kick Stick Ball Holder and Quarterback Target Net to take your game to the next level.
Specifications
Sizes
Pee Wee – Age 6-9
Junior – Age 9-12
Youth – Age 12-14
Official – Age 14+
Color
Traditional brown with white stripe design
Quantity
Pee Wee and Junior available as a singular, pack of 3 or pack of 45
Youth and Official sizes available as a single, pack of 3 or pack of 40
Materials
Made from Pu Leather with a pebbled finish
Enhanced strength rubber bladder
Miscellaneous
Meet all official game size regulations
Want to chat?
We're here on

live chat

right now!
Or via phone or email if you'd prefer...
Super fast shipping
Express shipping available
Questions & answers
Ask fellow customers what they think!
Hide Q&As
Questions & Answers
No one has asked a question yet!
You may also like
FORZA Football Quarterback Target Net
$129.99
12 x 6 FORZA Football/Soccer Combination Goal Posts
$289.99
10 x 6 FORZA Steel42 Football/Soccer Combination Goal Posts
$359.99
FORZA Football Kicking Cage
$126.99