Professional Lacrosse Goal 6ft x 6ft
Professional Lacrosse Goal 6ft x 6ft
Professional Lacrosse Goals And 5mm Thick Polyester Nets
Orange Powder Coated Steel
The 50mm diameter frame is manufactured from ultra-durable galvanized steel which will not falter or show signs of wear after being struck by lacrosse balls.
FIL Regulation Lacrosse Goals
Designed to be used by both professional players and amateurs these 6ft x 6ft regulation lacrosse goals conform with all regulations set by the FIL.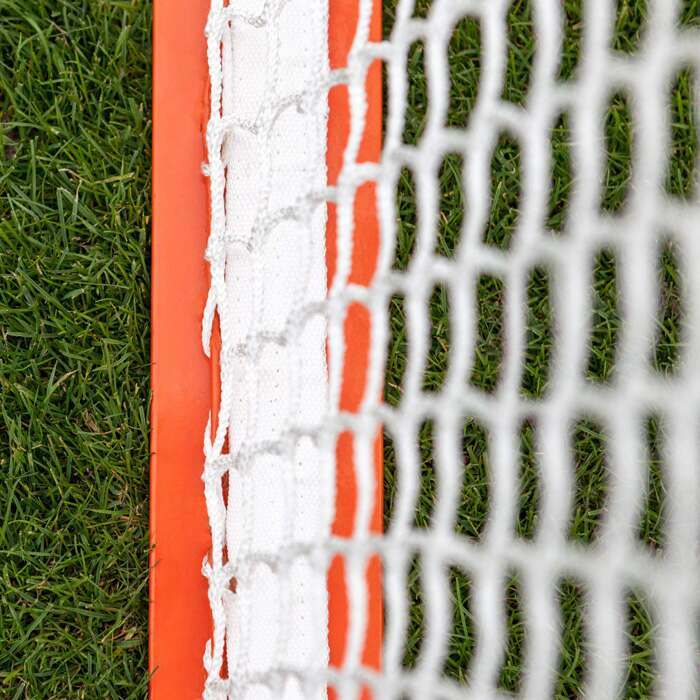 Heavy-Duty Stringing Rails
Your 5mm thick polyester netting will stay bonded to your goal thanks to the welded stringing rail which runs across the entirety of the lacrosse goals frame.
Description
Heavy-Duty Goals For All Professional Lacrosse Matches And Training Sessions
Upgrade your matchday lacrosse equipment with these premium 6ft (1.8m) x 6ft (1.8m) goals which are manufactured from galvanized steel and finished with an orange powder coating. This orange color conforms with the regulations set by the FIL (Federation Of International Lacrosse) for the ultimate match ready goal.
Professional size 6ft (1.8m) x 6ft (1.8m) lacrosse goals.
The goal's frame is manufactured from 50mm (2 inch) thick, powder coated galvanized steel.
Welded stringing rails and lacing bars run across the goal's frame for easy net attachment.
The professional polyester lacrosse net is 5mm thick with 5/8 inch mesh squares.
Designed to be used during all professional men's and women's FIL standard lacrosse games and training sessions.
Fast assembly with no tools required.
Available individually or as a pair of professional lacrosse goals.
The professional lacrosse goals are supplied with a 5mm thick white regulation nets which feature 5/8 inch mesh squares. These small squares are perfectly sized to keep all lacrosse balls within your goal, whilst the extra-deep mouth stops balls rebounding outwards. Reinforced border seams not only strength the lacrosse netting but also makes the task of attaching it to your goal a simple one. The net attaches to the welded stringing and lacing rails which are positioned across the entirety of the 6ft (1.8m) x 6ft (1.8m) frame.
Whether you plan to use these goals for training sessions or professional games they are extremely quick to set up as no tools are required for assembly. Despite the short build time the 50mm (2 inch) thick steel frame will stand strong during the constant onslaught of goals you will be scoring.
Net World Sports also supplies high-quality training equipment for professional lacrosse players designed to improve their all-around game including the high-quality lacrosse goal target sheet and RapidFire Lacrosse Rebound Net.
Specifications
Professional Lacrosse Goal Dimensions
Height x Width: 6ft (1.8m) x 6ft (1.8m)
Frame diameter: 50mm (2 inches)
Materials
Goal frame: Powder coated galvanized steel
Net 5mm thick polyester with 5/8 inch mesh squares
Miscellaneous
This lacrosse goal can be used in all professional matches
Welded stringing rails tightly attaches the net to the goal
No tools required for assembly
Available individually or as pair
Want to chat?
Contact us here and we'll get back to you as soon as possible.
Super fast shipping
1 day shipping available
Questions & answers
Ask fellow customers what they think!
Hide Q&As
Questions & Answers
1 question | 1 answer
Hi! Do you deliver also abroad for example to Finland?
Answer this question >
Hi Pertti,
Thank you for contacting us, yes we can certainly delivery our products to Finland, if you could please email sales@
networldsports.com
we will be able to send across pricing and delivery times for you.
We look forward to hearing from you.
Kind regards,
Alex
Professional Lacrosse Goal 6ft x 6ft
Thank you!
Your answer has been submitted.
We really appreciate you taking the time to help other customers, so please check your emails for a little thank you from us.
Professional Lacrosse Goal 6ft x 6ft
What would you like to know?
Thank you!
Your question has been submitted. You'll receive an email when an answer has been received.
Can't hang around? Contact us and we'll get back to you right away.
You may also like
Portable Multi-Sport Hitting Net [7' x 7']
$79.99
Lacrosse Rebounder
$139.99
Regulation Lacrosse Goal 6ft x 6ft
$99.99
Stop That Ball™ [Lacrosse Edition] – Ball Stop Net & Post System
$149.99
Rapidfire Lacrosse Rebounder [Double Sided]
$139.99
Recently Viewed
Backyard Cricket Set
$44.99
5 x 4 FORZA Match Soccer Goal Post
$84.99
FORZA Resistance Speed Chute
$9.99