Fortress Baseball Sock Net Replacement
Fortress Baseball Sock Net Replacement
Highly Durable, 100% Rot Proof Sock Net Replacement Screens
Overlocked Netting Edge
Our replacement baseball nets feature overlocked rope edges to ensure maximum strength and durability.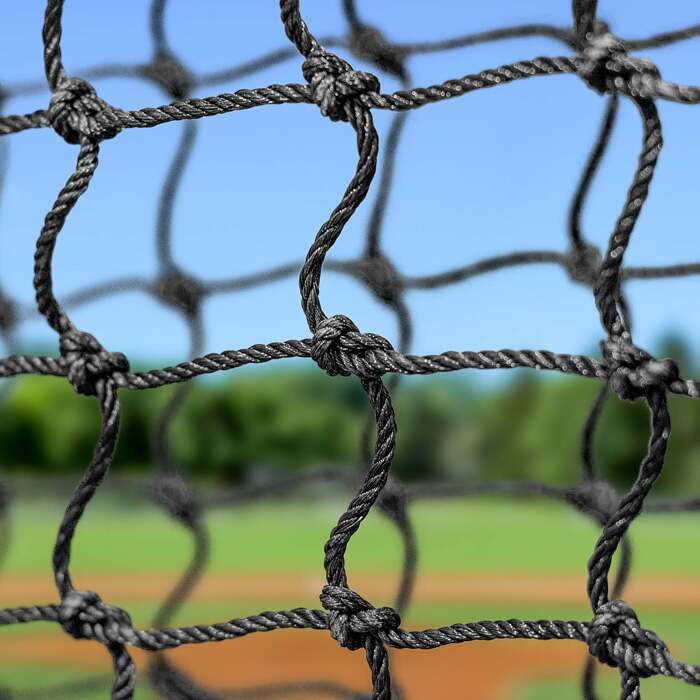 100% Weatherproof Twine
The UV treatment given to all of our baseball nets protects them against sunlight of the highest intensity and makes them 100% rot proof.
Double Strength Protection
The pillowcase design featured on both #42 and #62 grade replacement baseball nets makes assembly quick and easy as well as giving twice the protection.
Description
Baseball Replacement Nets for Fortress Baseball Sock Net Screens
Our heavy duty baseball replacement nets are perfect for repairing your existing Fortress sock net screens, whether you need the #42 weight net, or #62 weight which is supplied across our Nimitz range.
7ft x 7ft (2.13m x 2.13m) – designed specifically for Fortress and Fortress Nimitz baseball sock net screens
Select either #42 or #62 grade baseball nets, both made from a highly durable HDPE twine
All edges of our baseball nets are reinforced with 0.75in rope for extra strength
UV stabilized to withstand direct sunlight of any intensity and 100% rot proof
Pillowcase design makes for quick and easy installation as well as doubled-up protection
Both grades are manufactured with a pillow-case design, making them both secure and easy to apply to existing frames. This also provides you with a doubled-up layer of protection to extend the lifespan of our baseball nets.
Our entire range of replacement baseball nets are manufactured from knotted twine, which is a method of manufacturing that ensures our nets are the strongest they can be. The twine is UV stabilized and rot-proof so they can be used in any baseball facility, both indoors and outdoors.
Specifications
Size
Width: 7ft (2.13m)
Height: 7ft (2.13m)
#42 grade twine thickness: 2.5mm (7/64")
#62 grade twine thickness: 3mm (1/8")
Features
Pillowcase style netting slides over frame easily
#42 weight netting is used as standard with the Fortress range of baseball screens
#62 weight netting is used as standard with the Nimitz Edition range of baseball screens
Square sock captures balls during hitting or pitching training
Overlocked rope edges for extreme durability
Materials
All netting grades are UV stabilized and 100% rot proof
HDPE twine is durable and will not stretch
Want to chat?
We're here on

live chat

right now!
Or via phone or email if you'd prefer...
Super fast shipping
1 day shipping available
Questions & answers
Ask fellow customers what they think!
Hide Q&As
Questions & Answers
No one has asked a question yet! Be the first to ask one.
Fortress Baseball Sock Net Replacement
Thank you!
Your answer has been submitted.
We really appreciate you taking the time to help other customers, so please check your emails for a little thank you from us.
Fortress Baseball Sock Net Replacement
What would you like to know?
Thank you!
Your question has been submitted. You'll receive an email when an answer has been received.
Can't hang around? Contact us and we'll get back to you right away.
You may also like
FORTRESS Pro Baseball Screen [Nimitz Edition]
$399.99
FORTRESS Pro Baseball L-Screen [Nimitz Edition]
$399.99
FORTRESS Baseball Sock Net Screen
$116.99
FORTRESS Pro Baseball Sock Net Screen [Nimitz Edition]
$399.99
FORTRESS Ultimate Baseball Batting Cage & Poles
$269.99
Recently Viewed
Ball Pump Needles (Pack of 5)
$2.79
FORB Putt Returner With Auto Return Mechanism
$12.99
Replacement Upright Parts For FORZA Alu110 Freestanding Goals - Corner Joint & Support
$28.99
Replacement Boot Wiper Brushes Sets
$54.99
FORZA Replacement Back Stanchions
$5.99