FORZA 5ft Spring Loaded Slalom Training Poles [1"]
FORZA 5ft Spring Loaded Slalom Training Poles [1"]
1 Inch Thick Spring-Loaded Agility Poles Available In Packs Of 8 or 16
Suitable For All Sports
A multi-sport essential training aid, the spring-loaded slalom pole is ideal for working on your agility, footwork and speed.
Long Ground Spikes
With a long stainless-steel spike located at the bottom of each agility pole they will remain upright throughout lengthy training sessions.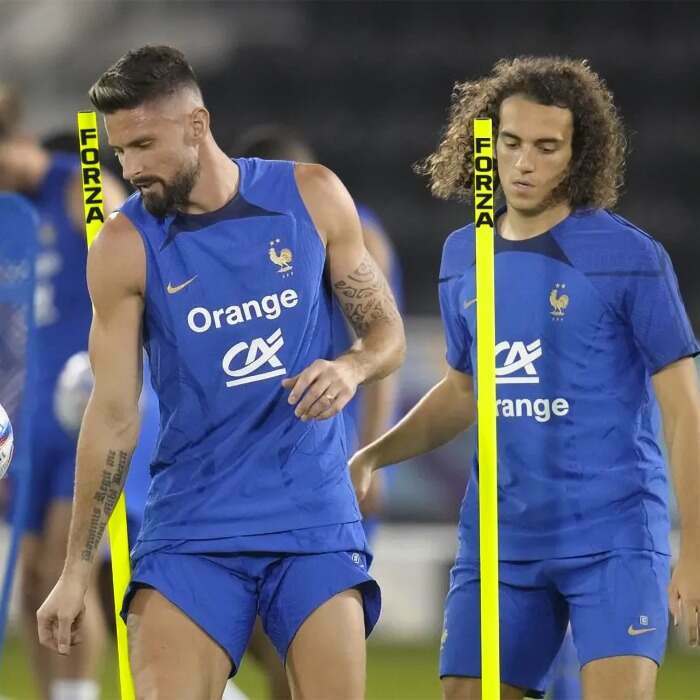 Spring Loaded Bases
Coiled springs allow these slalom poles to bend in any direction during collisions, in turn minimising the risk of players succumbing to injury.
Description
5ft Slalom Poles With Stainless-Steel Ground Spikes For All Grass Surfaces
These 5ft (1.5m) tall spring-loaded slalom poles are a great piece of multi-sport training equipment designed to improve your lateral movement and increase your overall speed. Available in packs of 8 or 16 you can create fun yet challenging footwork drills that take seconds to set up.
5ft (1.5m) tall slalom poles are manufactured from 1 inch (25mm) thick shatterproof plastic.
Spring-loaded bases absorb the impact of accidental collisions.
Slalom poles have stainless-steel spikes for easy insertion on grass pitches.
Fluorescent yellow in color for increased visibility during evening training sessions.
Compatible with the Slalom Pole Rubber Bases [5lbs] for use on hard surfaces.
Agility poles are available in packs of 8 or 16.
Safety is paramount during training sessions which is why there is a coiled spring placed at the bottom of each 5ft (1.5m) tall slalom pole. This spring absorbs the impact of head on collisions by allowing the agility pole to bend in any direction. The level of safety offered by these 1 inch (25mm) poles is increased by the fluorescent yellow shatterproof plastic they are manufactured from. The vibrant color means that even during late night training sessions you will easily be able to see these training poles.
Stainless-steel spikes ensure planting this piece of training equipment into the ground is a consistently easy task. The long spike effortlessly penetrates soft surfaces such as grass soccer pitches and football fields keeping the poles upright during use. If you would like to use these slalom poles on harder surfaces such as AstroTurf Net World Sports stocks Slalom Pole Rubber Bases [5lbs] which do not detract any element of safety these agility poles offer.
Specifications
Dimensions
Height: 4.7ft | 144cm
Diameter: 1 inch (25mm)
Material
Poles are manufactured from shatterproof plastic
Metal spikes are made from stainless steel
Miscellaneous
Coiled spring at the bottom of each pole
Color: Florescent yellow
Available in packs of 8 or 16
Slalom pole bases are also available (sold separately)
Don't just take our word for it
Great expience and delivery
3 broke from the beginning but replacements seem to be fine.
Merchandise was not an issue, they are built strong and so far standing to the work my team has subjected them to.
Good product, nice weight. Mine look like they've been used (but I don't want to have to pay for shipping back) but I haven't used them yet.
Quality of items very Good service and delivery excellent
Want to chat?
Contact us here and we'll get back to you as soon as possible.
Super fast shipping
Express shipping available
Questions & answers
Ask fellow customers what they think!
Hide Q&As
Questions & Answers
4 questions | 4 answers
Are there poles for astro turf ?
Do the spikes go into 3/4-g? Thanks Gareth
Hi Gareth, thank you very much for the enquiry. Unfortunately, the spikes aren't designed to do this. However, we do have 'Slalom Pole Bases' available on our site which will allow you to use them on this type of surface!
Many thanks,
Grant
Hello. The price for the item the training poles is for each or how many poles is it for purchase? Thank you have a good day
Hi Hector, we sell our slalom poles in packs of 8 or 16. There should be a drop down menu when you get onto the listing which should allow you to choose which pack you want. If you would like us to explain this in more detail then please email sales@
networldsports.com
where we will respond to you as soon as possible. Many thanks, Adam
Do the slalom poles come with a bag please?
You may also like
FORZA Speed & Agility Training Ladder
$11.99
FORZA 6ft Spring Loaded Slalom Training Poles [1.5"]
$74.99
10 Hygiene Bottles (34fl oz) & Foldable Bottle Carrier
$69.99