Freestanding STOP THAT BALL™ - Ball Stop Net & Posts [10ft High]
Freestanding STOP THAT BALL™ - Ball Stop Net & Posts [10ft High]

Professional Stop That Ball™ System – Ideal For The Backyard
180° ADJUSTABLE ANGLE
Unique to other ball stop systems, the Stop That Ball™ features an innovative 180° adjustable angle design, allowing you to easily tailor the backstop netting to shape/size of your backyard.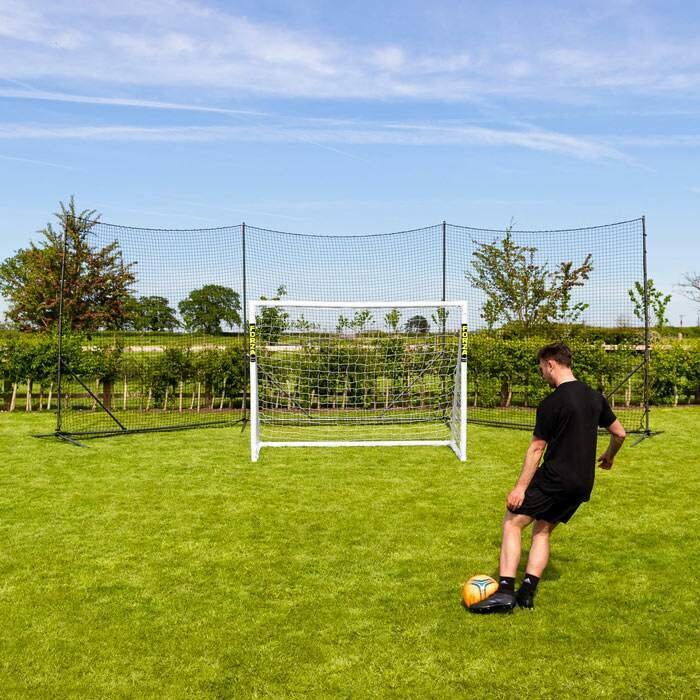 FREESTANDING & PORTABLE
Completely freestanding, this ball stop net system can be used on any surface. Suitable for indoor & outdoor use, the base features rubber feet for increased grip. Frame is super easy to move.
ULTRA HEAVY-DUTY NET & FRAME
Suitable for year-round, outdoor use, the premium zinc plated galvanized steel frame is resistant to rust, corrosion & scratching. 3mm HDPP net is UV treated & 100 rot-proof for supreme durability.
Description
Innovative Ball Stop Net System Will Keep Your Balls Close By
This exceptional Ball Stop Net System will not only keep stray balls close by, but also offer your backyard first class protection for those shots that don't quite go to plan. Whether you're trying to perfect your free kick techniques or you're putting your drop-kicking skills to the ultimate test, our Stop That Ball™ System guarantees to keep everyone satisfied. Standing at an impressive 10ft tall, this entirely freestanding structure is available in lengths of 10ft, so you can be sure to find the perfect size to fit your sporting arena.
Professional Ball Stop Net System with adjustable angle design
100% freestanding making it perfect for the backyard
Innovative extender units allow you to change the angle every 10ft
1.5in zinc plated, galvanized steel frame with powder-coating finish
48mm square mesh netting created from 3mm knotless polypropylene twine
10ft tall available in lengths of 10ft, 20ft, 30ft, 40ft & 50ft
Manufactured using ultra heavy-duty materials, this ball stop net system is guaranteed to last. The frame, which is super-easy to assemble thanks to its unique button locking system, has been engineered using 1.5in galvanized zinc plated steel which features a powder coating for further protection against rust and corrosion. The structure's innovative design features hinged extender units which allow you to adjust the angle of your Stop That Ball™ System every 10ft, so you can really mould it to best fit your situation.
As well as an impressively hard-wearing steel frame, our Stop That Ball™ comes with a net to match. The 48mm square mesh construction has been created using 3mm knotless polypropylene which is designed to easily absorb heavy impacts from stray balls. For further strength & durability, the netting has been UV stabilized and features a roped edge, giving it exceptional weather-resistance so you can leave it outside all year round. This world-class ball stop net system is completely freestanding, allowing you to keep your backyard in tip top condition!
PLEASE NOTE: For maximum stability, we recommend using the anchor pegs provided, particularly in windy conditions. In stormy conditions, we recommend you lie the entire structure flat to prevent it or the surrounding area suffering damage.
Which Size Ball Stop Net Is Suitable For My Soccer Goal?
| | |
| --- | --- |
| Stop That Ball™ Length | Soccer Goal Dimensions |
| 10ft | 5ft x 4ft, 6ft x 4ft |
| 20ft | 8ft x 4ft, 8ft x 6ft, 3m x 2m, 10ft x 6ft, 12ft x 4ft, |
| 30ft | 15ft x 7ft, 16ft x 4ft, 16ft x 7ft, 12ft x 6ft |
| 40ft | 18.5ft x 6.5ft, 21ft x 7ft, 16ft x 7ft, 24ft x 8ft |
| 50ft | 24ft x 8ft |
Specifications
Stop That Ball™ Specifications
Available Widths:
10ft | 3m (Weight: 42lbs | 19kg)
20ft | 6m (Weight: 68lbs | 31kg)
30ft | 9m (Weight: 97lbs | 44kg)
40ft | 12.2m (Weight: 123lbs | 56kg )
50ft | 15.2m (Weight: 150lbs | 68kg)
10ft Extender (Weight: 29lbs | 13kg)
Dimensions:
Ball Stop Height: 10ft (3m)
Depth of Stabalising Leg (per side): 35in | 89cm
Materials:
Netting: Ultra-Strong 3mm HDPP Twine with 48mm knotless mesh (Black)
Netting: UV treated & rope-edge for excellent durability indoors & outdoors
Frame: Manufactured from heavy-duty 1.5in (34mm) steel (powder coated)
Frame: Zinc plated & galvanised for supreme weather-resistance
Frame (Feet): High-quality rubber gives freestanding structure excellent grip on all surfaces
Miscellaneous:
Modular design allows you to extend it to ANY length in multiples of 10ft
All new design allows users to change the angle every 10ft
Entire structure is completely freestanding & weatherproof
Heavy-duty metal bolts, Allen key and spanner provided with the system for smooth installation
10ft Extender Kit allows you to increase the length of an existing system. 1qty = 10ft extension - please select accordingly above
Don't just take our word for it
Brilliant item, we can now play football and relax balls are staying in garden, quality product, does take up some room but we managed to take off back base poles and still works fine...would recommend..only improvement would be to include few more ties to secure net but we picked up a load cheaply so not a major problem...does the job..thanks
Fantastic all round - thank you
Easy set up and performed well
Good quality nest and posts, speedy delivery and good packaging.
Excellent netting. Easy to assemble.
Want to chat?
Contact us here and we'll get back to you as soon as possible.
Super fast shipping
Express shipping available
Questions & answers
Ask fellow customers what they think!
Hide Q&As
Questions & Answers
18 questions | 18 answers
Does the net have to be secured into the ground to work effectively? I've got astro turf so it's not possible for me to use metal stakes.
Hi David, thank you very much for the enquiry. This system will work just fine on Astroturf as no metal stakes or anchoring system is required. This system has a base that extends out 3ft each side which supports the weight of the structure.
Regards,
Hi there Just wondering if the 3m high x 15m long nets could be used at a school for a makeshift cricket net? Can you shape the structure so that you have one net at the back and the rest down the two sides like a cricket net? Kind regards, jasmine
Hi Jasmine, thank you very much for the enquiry. Yes, it could be potentially used for this use as each post has a hinge to allow you angle this system to create a U shape.
Many thanks,
Is it ten feet length and not height if so what's the height
Hi Luke, thank you very much for the enquiry. This system is 10ft high x whichever length option you select from the drop down menu.
Many thanks,
Hi, will this work to stop field hockey balls? Thank you!
Hi Lorena, Thank you for the question. The Stop That Ball system can stop multiple balls of a similar size, this system is a 48mm netting of which can stop cricket and lacrosse also.

If you have any queries please do get back in touch.

Many thanks

Ryan


Will this net stop a lacrosse ball or will it pass through
Hi Patrick,
Thank you for getting in touch.
I have provided a link below of the product i believe is suitable for lacrosse environments.
STOP THAT BALL™ [LACROSSE EDITION] – BALL STOP NET & POST SYSTEM
https://www.networldsports.com/stop-that-balltm-lacrosse-edition-ball-stop-net-post-system.html
Within this you can choose the netting type. For a lacrosse stopping product i would choose 22mm netting.
I hope this information helps.
If you have any further queries please do get back in touch with us.
Many thanks
Ryan
Hi, can the netting be moved into a different shape, for instance a box shape instead of a straight forward fence style shape ?
Hi JP, thank you very much for the enquiry. Yes, this system can be adjusted into different shapes to make corners instead of just straight lines!
Many thanks,
Grant
Hi there could you confirm if this includes the actual football goals as well or is this just the net off the back Many thanks
Hello, thank you very much for the enquiry. Unfortunately, this is just for the ball stop system you can see located behind the goals. We have images of the goals in place to show how this product can be used. We do however have those exact steel42 goals available on our site!
Many thanks,
Grant
If I buy 50 feet, can I use 30 feet on one side and 20 on another, while they stay connected? Meaning it can form a right angle. Or do I need to order 30 and 20 feet separately?
Hi Amit. Thank you for the question.
Unfortunately, a right angle would not be recommended with the Socketed aluminium ball stop system do to the net being one continuous piece and pulled along a pulley system. The right angle would cause the system to get trapped at the corner point and ultimately would not be used to the full potential.
We would recommend this system more so in this occasion as it doesn't have a pulley system.
https://www.networldsports.com/stop-that-ball-socketed.html
If you have any queries please do get in touch! Many thanks,
Ryan
I have a basketball hoop in my drive way and I want to get something so my basketball stops going over into my neighbors <a href="http://yard.would" target="_blank">yard.would</a> a 10feet net help with this?
Will this work good against lacrosse balls
Hi Tyler, thank you very much for the enquiry. Yes, if you select the 22mm netting option, this system is perfect for Lacrosse, it's designed exactly for that use!
Many thanks,
Grant
Hi, can the poles be set to different heights or are they rigid? We have decking on one side of the garden so would need to adjust one pole to make the net level. TIA
Hi, thank you very much for taking the time to contact us. Unfortunately, each pole is set at 10ft in height and it cannot be adjusted I'm afraid.
Many thanks,
Grant
Hi - how moveable is the stop that ball system - so when not in use is it easy to move away from the flower beds it's protecting.
Hi Aofie, thank you very much for the enquiry. Yes, this system is designed for this sort of use. It's very portable, allowing you to move it around the garden as and when you need to use it.
Many thanks,
Grant
If I purchase the 20 ft width length and decideded that I need to have it shortened to 15 feet, is the width adjustable or set? Or if I need to make it 10ft in width, can I just assemble it with 2 posts to make it the desired width?
Hi May, thanks for getting in touch. This system is only available in 10ft sections therefore you would not be able to adjust it to 15ft however if you purchased the 20ft section and only wanted to use 10ft this would not be a problem to do so. If you would like to talk about this inquiry in any more detail then please do get in touch. Our sales email address is sales@
networldsports.com
. Many thanks, Adam
Hi,could you tell me how deep the base is each side please? We need to put it up against a fence but it looks like the feet on it would prevent this. Thank you
Hello Keeley, thank you very much for the enquiry. The length of each support leg is 35inches (89cm).
Many thanks,
Grant
Is there any ball and net post system available in 15' or 20' heights ? I want it to go behind a soccer goal 24'wide. Thanks.
Hi, how high is the netting? We are looking to use it behind a basketball hoop. Thank you!
Hi, the netting would be 10ft (3m) which is the same height as the posts. Thanks
Is there a way to stabilize it to fence posts instead of using the perpendicular supports?
Hello,
Thank you for contacting us, there is a good chance that you could attach the poles to a fence using a kind of U clip to secure it. Please email us on sales@
networldsports.com
or call on 866-961-9095 and we can help you with this.
Kind regards,
Alex
How many poles does net come with? A pole per certain amount of feet of net??
Hello, thank you very much for the enquiry. Please see the poles to length ratio below.
10 - 2 Poles
20 - 3 Poles
30 - 4 Poles
40 - 5 Poles
50 - 6 Poles
Many thanks,
Grant
You may also like
Ball Stop Net & Post System [12/20/26ft High] - Removable
$811.99
Removable Alu80 Ball Stop System Posts [3 Sizes]
$264.99
Multi Sport Backstop Netting [Standard Size]
$1.99
6 x 4 FORZA Alu60 Soccer Goal
$299.99
FORZA Soccer Goal Target Sheets
$28.99
Recently Viewed
FORZA Portable Lacrosse Crease [Men's & Women's Regulation Size]
$49.99