Vermont ProCourt Mini Tennis & Badminton Combi Net
Vermont ProCourt Mini Tennis & Badminton Combi Net

Portable Mini Tennis & Badminton ProCourt Net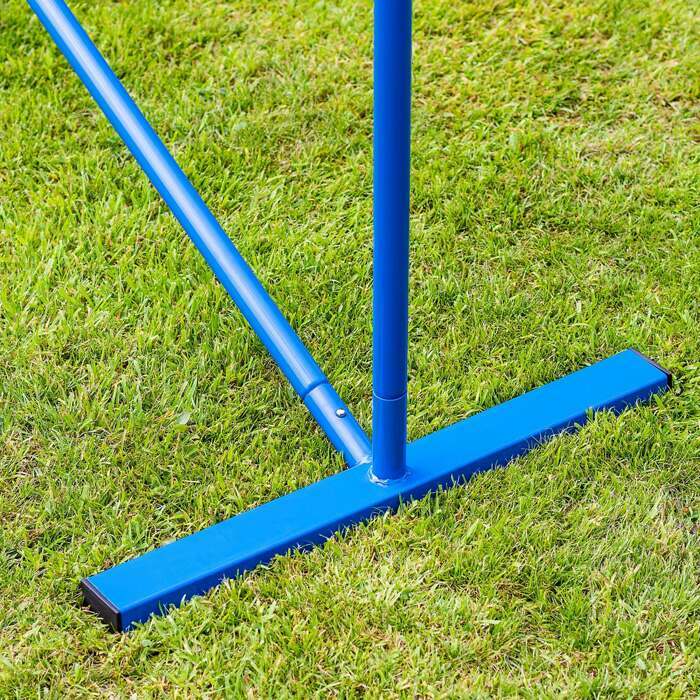 An Easy Conversion
Switching between sports has never been so simple! By adding/removing one of our ProCourt posts from either side of the frame you can enjoy mini tennis and badminton in the same session!
Everything You Need
This Vermont ProCourt Mini Set has everything you need to create the ultimate sporting experience. A high-quality net, supremely durable net frame and a heavy-duty carry bag to help you transport it!
Premium Portability
This ProCourt Combi net allows you to take the sporting fun anywhere! The lightweight nature of the high-quality materials used to create the set combined with the carry bag makes transporting it a simple task.
Description
Vermont ProCourt Mini Tennis/Badminton Combi Net
If you're looking for a sport set that offers multiple sports, can be set up in just minutes and will perform just about anywhere, then look no further than this high-quality Vermont ProCourt Mini Tennis & Badminton Net. A multi-sport accessory, this combination net is perfect for youngsters trying to carve out a mini tennis/badminton career and also for families searching for some additional sporting fun!
High-quality Mini Tennis & Badminton Combination Net
Simple conversion between mini tennis & badminton
3 lengths available: 10ft, 20ft & 30ft
Assembled in just minutes
Frame is manufactured using 1mm thick powder-coated steel (can be used indoors or outdoors)
Durable 6ply PE netting with 210D Oxford Material banding
100% portable with nylon carry bag included
The ProCourt combination net is one of our most popular products and it's easy to see why. Manufactured using premium-quality materials, the net system can be used indoors or outdoors thanks to its robust, powder-coated steel frame (1mm). The 6ply Polyethylene netting features a 1" mesh with coated 210D Oxford Material banding, giving the ProCourt Combi Net exceptional strength and durability. The slick blue and yellow design matches them perfectly with our Vermont Mini Tennis and Badminton Rackets too!
What sets the ProCourt apart is its ability to accommodate several audiences. It's the perfect fit for young stars picking up a racket for the first time whilst also providing families with the ultimate backyard entertainment with sports such as pickleball, volleyball and soccer tennis! Completing the set is a heavy-duty nylon carry bag, which allows you to store your ProCourt easily and take the sporting action wherever you like. From the mini tennis court to the beach, this Vermont ProCourt Mini Tennis & Badminton Combi Net will be the perfect addition to your sporting set-up!
PLEASE NOTE: The ProCourt System can be converted between sports easily via the addition/removal of one post (included) on either side.
Specifications
Vermont ProCourt Mini Combi Net Specifications
Sizes:
Available Net Lengths: 10ft (3m) | 20ft (6m) | 30ft (9m)
Net Height (Mini Tennis): 2.6ft (0.8m)
Net Height (Mini Badminton): 5ft (1.55m)
Materials:
Net Frame: 1mm Thick Powder-Coated Steel Tubing – exceptional durability (indoors & outdoors)
Net: 6ply Polyethylene with 1" mesh
Net (Side Banding): Weatherproof PVC Tarpaulin
Net (Top & Bottom Banding): Coated 210D Oxford Material
Carry Bag: Durable Nylon
Set Weights:
10ft (3m): 17.6lbs / 8kg
20ft (6m): 25.8lbs / 11.7kg
30ft (9m): 34lbs / 15.4kg
Miscellaneous:
Set Contents: Net, Posts & Carry Bag
Set comes with optional anti-slip pads for the base
Net is also an excellent choice for Pickleball, Volleyball & Soccer Tennis
Don't just take our word for it
works perfectly, fair price. what more could i want?
sturdy and easy to set up. well though out product
Product was extremely good quality
Really sturdy and very impressive net. The whole family loves it and we've been using it in February in our driveway!
Want to chat?
Contact us here and we'll get back to you as soon as possible.
Super fast shipping
1 day shipping available
Questions & answers
Ask fellow customers what they think!
Hide Q&As
Questions & Answers
8 questions | 8 answers
Is this easy to store when not using or does it stay up all the time?
Answer this question >
Hi Jodi, this product is very easy to take down and store away in the provided bag however, it is also durable enough to stay out in most weather conditions!
Kind regards,
Grant
What's size of the 20ft net when packed (with all poles etc included)?
Answer this question >
Hi Bernard, thank you very much for the enquiry. Please see the following dimensions:- 103cm x 22xm x 13cm & it weighs 12.5kg.
Many thanks,
Grant

I have the whole set up and really like it. Can I just buy a 30' replacement net? My original net is finally wearing out. Thanks
Answer this question >
Is this suitable for a 5 year ok?
Answer this question >
Hello Brian, Thank you for your question. This system is able to be used for any age range, for the age of 5 years old the best length to use is 10ft. As they are just starting out playing the 10ft length would be perfect for them. If you have any further questions please do get in touch. Many thanks, Tom
Is this net suitable for a 10 and 13 year old ?
Answer this question >
Hi Sara, Thank you for your question. This product is perfectly suited for all ages and with the ages of 10-13 years old I would recommend the 20ft size. This size would be suited up to the age of around 16 years old, so you have great value for money. Many thanks, Tom
How high is the badminton and tennis net?
Answer this question >
Hello Pete, Thank you for your question. The height when playing Tennis is 2.6ft (80cm), when you are looking to use it for Badminton the height then goes up to 5ft (155cm). If you have any further questions please contact me via sales@
networldsports.com
Many thanks, Tom
Is the height high enough for volleyball?
Answer this question >
Hi Melisa,
Thank you for contacting us, the net would only be 5ft high which isn't the correct height for volleyball however you would still be able to enjoy a game of volleyball at this height. If you would like any pricing please email sales@
networldsports.com
who will be happy to help.
Kind regards,
Alex
Is this standard height for pickleball as well? How long does it take to get to California?
Answer this question >
Hi Craig, thanks for your question. Unfortunately this is the correct height for tennis, rather than pickleball. We do have a lot of customers that use this for both though. We can deliver this to California in as little as 2 working days if the express shipping is chosen. Please let me know if you need anything else at all. Many thanks, Dan.
Vermont ProCourt Mini Tennis & Badminton Combi Net
Thank you!
Your answer has been submitted.
We really appreciate you taking the time to help other customers, so please check your emails for a little thank you from us.
Vermont ProCourt Mini Tennis & Badminton Combi Net
What would you like to know?
Thank you!
Your question has been submitted. You'll receive an email when an answer has been received.
Can't hang around? Contact us and we'll get back to you right away.
You may also like
Vermont Training Tennis Balls [60 Bucket]
$49.99
Vermont ProCourt Mini Badminton Net & Racket Set
$107.99
Vermont ProCourt Mini Tennis Net & Racket Set
$99.99
Vermont Tennis Net & Posts Custom Package
$399.99