FORTRESS Vulcan Cricket Cage
FORTRESS Vulcan Cricket Cage
Vulcan Cricket Cage – 100% Freestanding Practice Cricket Net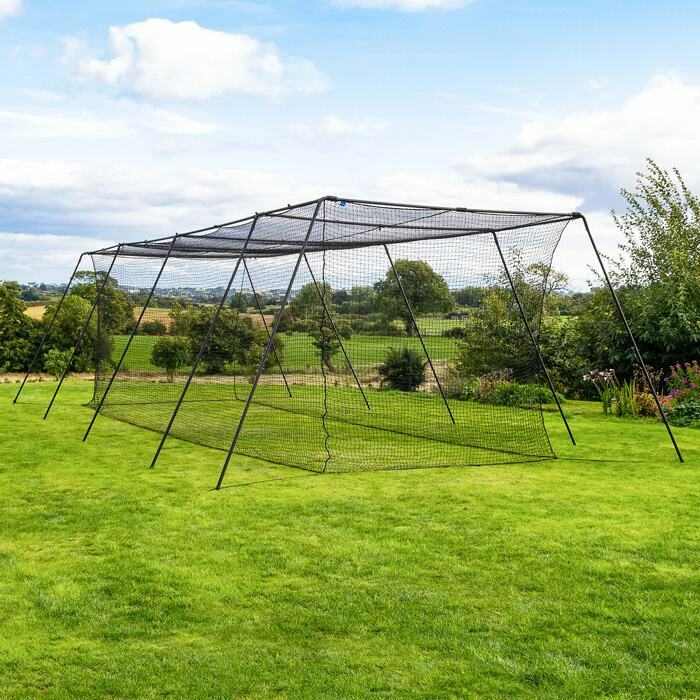 RANGE OF SIZES
An excellent choice for cricket clubs, schools & even home use, the Vulcan Cricket Cage is available in three different lengths (35ft, 55ft & 70ft) ensuring you can have the perfect batting net for your set-up.
SUPREME DURABILITY
Simply assembled using the button locking system, the frame has been engineered using 32mm galvanized steel whilst the netting is crafted from UV stabilized rot-proof HDPP with a 45mm knotted mesh.
COMPLETELY FREESTANDING
Unique to other cricket batting nets, the Vulcan Cricket Cage is completely freestanding allowing it to be used on any playing surface. The innovative frame ensures no ground pegs are required for stability.
Description
Professional Cricket Cage Net For The Backyard – Completely Freestanding
Guaranteeing to bring a professional element to any cricket set-up, the Vulcan Cricket Cage will take your game to the next level. An excellent choice for clubs, schools & even home use, this cricket net is completely freestanding, allowing you to use it on any flat playing surface. Suitable for indoor and outdoor use, the Vulcan's elite construction consists exclusively of premium-grade materials, ensuring its high-performance level will be maintained for many years to come. The high-quality cricket cage is available in three lengths; 35ft, 55ft or 70ft with a choice of internal or external netting also on offer.
Vulcan Cricket Cage – the ultimate batting net for the backyard & training pitch
Three sizes available; 35ft, 55ft & 70ft with a choice of internal or external netting
Freestanding frame consists of multiple 32mm galvanized steel tubes (powder coated)
Simple-to-assemble frame features button locking system for supreme strength & stability
100% rot-resistant netting is crafted using 45mm mesh HDPP (UV stabilized) – rope edged
Can be used on any playing surface – no ground pegs required for grass
Bungee tie cords are included for quick & efficient attachment of batting net
Expertly designed to combine world-class durability with an efficient assembly process, the Vulcan Cricket Cage's frame is made up of multiple galvanized steel tubes. The 32mm thick poles feature an additional powder-coating giving them supreme resistance towards rust & corrosion. Matching the frame, the rot-resistant netting has been crafted using #42 grade HDPP with a 45mm mesh – perfectly-equipped to cope with heavy cricket ball impacts. UV stabilized, the impressive cricket netting is completely resistant to sun damage, which when combined with the ultra-durable cricket cage frame, creates a cricket net that can be left outdoors all year round.
PLEASE NOTE: The Vulcan Cricket Cage comes with a choice of internal & external netting available. Both styles are fully enclosed, so if you require an open end for bowlers, simply cut one end using scissors.
Specifications
Vulcan Cricket Cage Specifications:
Sizes Available:
35ft x 10ft x 10ft | 10.7m x 3m x 3m
55ft x 10ft x 10ft | 16.8m x 3m x 3m
70ft x 10ft x 10ft | 21.3m x 3m x 3m
All sizes are 14ft (4.2m) wide at the bottom
Materials:
Frame: 32mm galvanized steel (powder coated)
Frame Corner Joints: 40mm galvanized steel (four-way joint)
Netting: #42 grade HDPP with 45mm knotted mesh (UV stabilized & rot-proof)
Netting: 6mm braided rope edge for excellent fray prevention
Miscellaneous:
Vulcan Cricket Cage is 100% freestanding & suitable for any playing surface
Entire structure is 100% weatherproof & suitable for year-round use
We recommend taking the cricket net down during periods of high winds
Don't just take our word for it
Want to chat?
Contact us here and we'll get back to you as soon as possible.
Super fast shipping
Express shipping available
Questions & answers
Ask fellow customers what they think!
Hide Q&As
Questions & Answers
No one has asked a question yet!
You may also like
Batting Cage Enclosure Netting
$91.99
Backyard Cricket Net
$349.99
FORTRESS Ultimate Cricket Net
$423.99
Socketed Steel Cricket Cage [Club Spec]
$999.99